AMHERST, MA (Sept. 12, 2023) – On October 15, 2023, the Yiddish Book Center debuts a major new core exhibition that tells a multitude of global yet deeply personal stories. Yiddish: A Global Culture explores modern Yiddish literature, theater, music, press, and politics through approximately 350 objects, including rare books, artwork, photographs, sheet music, Yiddish typewriters, and other artifacts. A grand opening celebration on October 15, 2023 will include a dedication, live performances, and exhibition tours (see details below).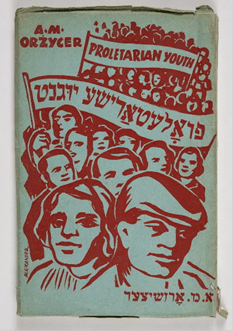 "Yiddish: A Global Culture brings to life a culture that was the bridge between tradition and modernity for a migratory and diasporic people," said Susan Bronson, the executive director of the Yiddish Book Center. "The exhibition showcases the extraordinary creativity and resilience of a people who navigated change while preserving their heritage and impacting the world around them—a model of cultural preservation and adaptation that resonates today."
"Our new exhibition celebrates Yiddish and the distinctly modern literature and culture that it generated around the world," said Aaron Lansky, the Center's founder and president. "Yiddish: A Global Culture will surprise and delight diverse audiences, even if they can't read a single word of Yiddish. After viewing this exhibit they'll never think of Yiddish in the same way again."
Exhibition Highlights
Yiddish: A Global Culture introduces audiences to the full breadth and richness of modern Yiddish culture—a sophisticated, dynamic, international, and interconnected civilization that evolved in constant dialogue with the majority cultures around it. Featuring artifacts from the Center's collections or on special loan, the exhibition offers a multi-faceted narrative of identity, creativity, migration, and belonging that reaches around the world. The exhibition includes themed displays on Yiddish Theater, Soviet Yiddish, Modernism, Bestsellers, and Women's Voices, as well as broader cultural topics such as Press & Politics, Celebrities, and Yiddish and the Holocaust.
"You'll step inside our beautiful, light-filled building to find a Yiddish Palace of Varieties, or a Yiddish World's Fair," said David Mazower, the Center's research bibliographer, who is the exhibition's chief curator. "We've created a bright, colorful space full of powerful stories and wonderful objects that make you think, but also touch the heart and soul; I want people to see this exhibition and feel inspired, surprised, moved, informed, and entertained."
Visitors are greeted by a display of 49 books from the Center's vast collection, representing works published around the globe. Highlights include immigration narratives, socio-political tracts, travelogues, and translated literature such as Der alter un der yam (The Old Man and the Sea), Der kleyner prints (The Little Prince), and Heri Poter un der filozofisher shteyn (Harry Potter and the Philosopher's Stone). Above the books is a new 60-foot color mural of "Yiddishland" by illustrator Martin Haake, depicting key moments, personalities, and trends in modern Yiddish culture.
Yiddish: A Global Culture features the stories and work of many women artists, including a recently rediscovered portrait (ca. 1925) of Celia Adler, a leading lady of Broadway and the Yiddish stage, painted by Ludwig Satz, himself one of the biggest stars of Yiddish film and operetta. Adler and Satz frequently played opposite each other on stage, and Satz had asked Adler to marry him. The portrait captures his unrequited love, as Adler turned down his proposal. Never before seen in public, the painting was recently discovered at a small auction house in New York.
Esther Carp was among the female artists pushed to the fringes of Yung Yidish, a male-dominated avant-garde circle in post-WWI Lodz, Poland. In 1921, in collaboration with artists Ida Broyner, Dina Matus, and poet Rachel Lipstein, Carp was part of a feminist project that produced a trio of Yiddish and German hand-colored books, now hailed as a masterpiece of modernist book art and the Jewish avant-garde. Scarce and highly sought-after, Himlen in opgrunt (Heavens in the Abyss), with Carp's boldly colored abstract figures, is on view in the exhibition. Also on view is Bella Chagall's 1945 memoir Brenendike likht (Burning Lights), published posthumously and featuring illustrations by her husband, artist Marc Chagall. The copy on view is inscribed by Marc to Yiddish poet H. Levick "tsum ondenk fun Bela" ("in remembrance of Bella") with her photograph, "di letste bild fun Bela'n" ("the last picture of Bella").
Performers are prominently featured in the exhibition, including Ukrainian-born actor and director Michal Michalesko, who made his name in the 1910s as a star of the Warsaw Yiddish operetta stage. In 1920 he came to New York to star in a Yiddish translation of Emmerich Kalman's operetta Die Csárdásfürstin (The Gipsy Princess) at Boris Thomashefsky's National Theater, and went on to star in dramas, including Shakespeare's Hamlet in Yiddish translation. On view are publicity photographs of Michalesko in a wide variety of roles, theater posters, sheet music, and his gold cigarette case.
Also on view is the tale of child singing prodigy Seymour Rechtzeit, who arrived in America from Poland with his father in 1920. When immigration quotas stranded the rest of the family in Poland, Seymour's father appealed to New York congressman Isaac Siegel for help, and Siegel arranged for the wunderkind to perform for Congress, singing "Brengt Mir Mayn Mamen fun Yene Zayt" ("Oh Bring My Mother From Across the Sea"). The song, written by Seymour's brother, was a success and the family was reunited by 1923. Seymour went on to perform at the White House for President Calvin Coolidge.
Among the popular books on view in the exhibition are detective novels featuring Max Spitzkopf, known as the King of Detectives or the Viennese Sherlock Holmes. Created by the prolific Polish Yiddish journalist and editor Yoyne (Jonas) Kreppel, the Spitzkopf stories captivated the young Isaac Bashevis Singer, who recalled their "magnetic attraction." Advertisements proclaimed "MAX SPITZKOPF IS A JEW—and he has always taken every opportunity to stand up FOR JEWS. Whenever a Jew has faced some injustice and turned to Spitzkopf for help, he was never disappointed." The rare ca. 1909 bound volume of Spitzkopf stories on view includes Kidnapped for Conversion (Geroybt tsu der shmad), in which a gang, including a priest and a nun, kidnap the teenage daughter of a Galician Jewish landowner.
Also on view is Geyt a hindele keyn bronzvil (A Hen Goes to Brownsville, 1937), published by the children's branch of the Workmen's Circle. Hindele the hen is determined to go to the poor Jewish neighborhood of Brownsville, Brooklyn, to lay eggs for hungry children. Fined for holding up traffic, she pays her bus fare with an egg and is surprised to learn that everything in the human world requires money.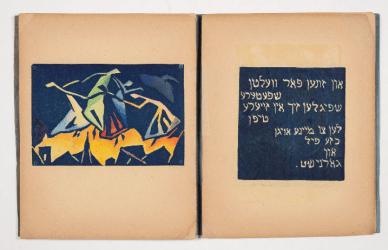 Other artifacts of note in Yiddish: A Global Culture include:
The Memorial Album for the Thirty Day Mourning Period for Sholem Aleichem (New York, 1916), a special commemorative publication that features photographs from along the funeral route from his Bronx apartment to his resting place in Queens, for which 250,000 mourners lined the streets to pay tribute to Yiddish literary royalty;
A scrapbook of William Gropper cartoons from the communist-affiliated Yiddish daily newspaper Morgn frayhayt (Morning Freedom), compiled in 1933-34 by Ukrainian-born immigrant dentist Froim Moiseyevitch Camenir, who was active in leftist Bronx cultural organizations and a devoted Morgn frayhayt reader;
A life-size copy of a photograph (Brooklyn, ca. 1910) of an unidentified man wearing a costume celebrating three of New York's early Yiddish daily papers: the socialist Forverts (The Jewish Daily Forward) across his chest and cap, the anarchist Fraye arbeter shtime (The Free Voice of Labor) on his sleeves, and the centrist Morgn zhurnal (The Jewish Morning Journal) on his pants;
A display of 20th-century Yiddish typewriters, some of which were used by renowned Yiddish writers; and
The world's last Yiddish Linotype machine (ca. 1920) that was salvaged from the Jewish Daily Forward, a popular Yiddish newspaper, after it transitioned to digital composition in the early 1980s.
Visitors also can explore a re-creation of the turn-of-the-century Warsaw apartment of writer I. L. Peretz, whose legendary salon stood at the forefront of Yiddish modernism in the 1900s and 1910s. The period reproduction features books, a gallery of writers and artists in Peretz's circle, a soundscape of voices from the salon, a re-creation of Peretz's desk, and wallpaper based on original photographs.
Public Opening
To mark the opening of Yiddish: A Global Culture, a full day of festivities will take place on Sunday, October 15, 2023, from 10:00 a.m. to 5:00 p.m. Highlights include The Glorious, Fabulous, Incandescent World of Yiddish Theater, a live cabaret-style performance with some of the leading stars of 21st-century Yiddish Theater (3:30 p.m.), and free guided exhibition tours and pop-up performances throughout the day. More details are available at https://www.yiddishbookcenter.org/events-and-store/virtual-public-programs-calendar/save-date-yiddish-global-culture.