Olivia Isabel Rodrigo, born on February 20, 2003, is an exceptionally talented American singer-songwriter and actress. With her incredible vocal abilities and captivating performances, she has soared to prominence in the music industry over the past few years. In this article, we will delve into Olivia Rodrigo's journey from her early acting days to her remarkable music breakthrough and the release of her highly acclaimed albums. Join us as we explore the life, career, artistry, and philanthropic endeavors of this rising star.
Early Life and Acting Career
Olivia Rodrigo was born and raised in Murrieta, California, on February 20, 2003. She grew up in a musically inclined family, where she was exposed to various genres, including alternative rock, through her parents' favorite bands like No Doubt, Pearl Jam, The White Stripes, and Green Day. Rodrigo's passion for music blossomed at a young age, and she began taking acting and vocal lessons in kindergarten.
Rodrigo's acting career took off when she landed the lead role of Grace Thomas in the direct-to-video film "An American Girl: Grace Stirs Up Success" at the age of twelve. Soon after, she gained recognition for her portrayal of Paige Olvera, a talented guitarist, in the Disney Channel series "Bizaardvark." Her exceptional performance in the series caught the attention of the audience and critics alike.
In 2019, Rodrigo took on the starring role of Nini Salazar-Roberts in the Disney+ series "High School Musical: The Musical: The Series." Her portrayal of Nini received widespread acclaim, cementing her status as a rising star in the entertainment industry. After three successful seasons, Rodrigo decided to leave the show to focus on her music career.
Music Breakthrough and "Sour"
In 2020, Olivia Rodrigo signed with Geffen Records and Interscope Records, marking the beginning of her music career. She wasted no time and released her debut single, "Drivers License," on January 8, 2021. The song took the world by storm, breaking numerous records and catapulting Rodrigo to global fame. "Drivers License" received critical acclaim for its heartfelt lyrics and Rodrigo's soulful delivery.
Following the massive success of "Drivers License," Rodrigo released two more hit singles, "Deja Vu" and "Good 4 U." These songs showcased Rodrigo's versatility as an artist and further solidified her position in the music industry. On May 21, 2021, Rodrigo released her highly anticipated debut studio album, "Sour." The album received rave reviews from critics and resonated with fans worldwide.
"Sour" explores themes of heartbreak, self-discovery, and the complexities of teenage emotions. Rodrigo's raw and honest songwriting captivated listeners, and her powerful vocals brought the emotions to life. The album's success was undeniable, topping charts globally and earning Rodrigo three Grammy Awards. She proved that she was not just a one-hit wonder but a force to be reckoned with in the music industry.
Second Album: "Guts"
Building on the success of her debut album, Olivia Rodrigo announced her second studio album, "Guts." The album was released on September 8, 2023, much to the excitement of her fans. With "Guts," Rodrigo aimed to explore the concept of "growing pains" and navigate the journey of self-discovery during her late teenage years. The album showcases her artistic growth and maturity, reflecting the experiences and challenges she faced during this period of her life.
The lead single from "Guts," titled "Vampire," was released on June 30, 2023. The song immediately resonated with listeners and debuted at the top of the Billboard Hot 100, marking Rodrigo's third consecutive number-one single. The success of "Vampire" set the stage for the highly anticipated release of "Guts" and further solidified Rodrigo's status as a musical powerhouse.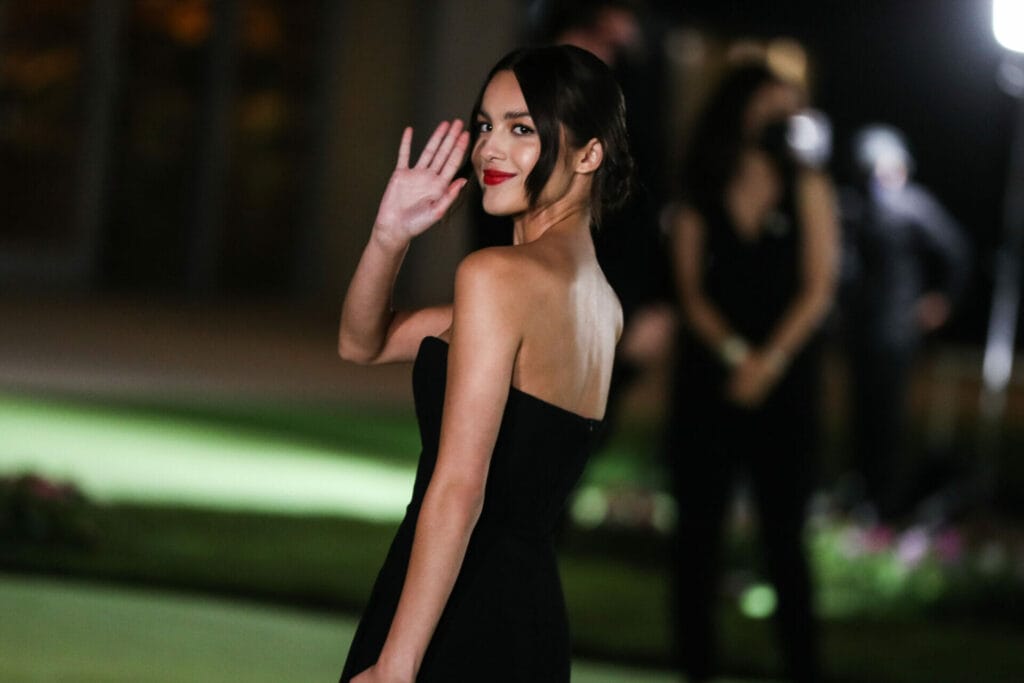 Artistry and Musical Influences
Olivia Rodrigo's musical style encompasses elements of pop, pop rock, teen pop, and indie pop. Her songs often explore themes of heartache, mental health, and the ups and downs of teenage life. Rodrigo's songwriting is deeply personal and relatable, drawing inspiration from her own experiences and emotions.
Rodrigo has cited Taylor Swift and Lorde as her idols and main musical inspirations. She has often expressed her admiration for Taylor Swift, dubbing herself Swift's biggest fan in the world. Rodrigo also draws inspiration from artists like Alanis Morissette, Kacey Musgraves, Fiona Apple, and Avril Lavigne. Her diverse musical influences contribute to her unique sound and storytelling abilities.
Achievements and Awards
Throughout her career, Olivia Rodrigo has achieved remarkable success and garnered numerous awards and accolades. She has achieved three Billboard Hot 100 number-one singles, including the record-breaking "Drivers License." Her debut album, "Sour," topped the Billboard 200 chart and spent five weeks at the number-one spot.
Rodrigo's achievements extend beyond the charts. She has won several prestigious awards, including three Grammy Awards, an American Music Award, seven Billboard Music Awards, and three MTV Video Music Awards. Additionally, Time magazine named her the 2021 Entertainer of the Year, and Billboard honored her as the Woman of the Year in 2022.
Philanthropy and Social Impact
Olivia Rodrigo is not only a talented artist but also a compassionate individual dedicated to making a positive impact in the world. She has actively participated in philanthropic activities and supported various causes. In 2018, Rodrigo teamed up with Instagram's #KindComments campaign to promote kindness and positivity on social media.
She has also been involved with organizations like My Friend's Place, which helps homeless youth find shelter, and the Geena Davis Institute on Gender in Media, advocating for gender equality in the entertainment industry. Rodrigo's commitment to social causes extends to her music career, where she has donated proceeds from merchandise sales and concert ticket sales to charities supporting education, women survivors of war, and hospital patients.
Olivia Rodrigo's journey from a talented young actress to a chart-topping singer-songwriter has been nothing short of extraordinary. Her heartfelt lyrics, powerful vocals, and relatable storytelling have resonated with millions around the world. With her debut album "Sour" and the highly anticipated second album "Guts," Rodrigo continues to solidify her position as one of the industry's brightest stars.
Beyond her musical achievements, Rodrigo's philanthropic endeavors and commitment to social causes reflect her genuine desire to make a positive impact. As she continues to evolve as an artist and inspire her fans, it is clear that Olivia Rodrigo's influence on the music industry will endure for years to come.