PARIS – On 20 October, as Paris honours contemporary creation with Paris+ par Art Basel, Christie's invites art lovers to a unique sale during its 20/21 auction series. Christie's will offer Rhinocrétaire I, the first major sculpture by François-Xavier Lalanne— widely considered to be the artist's most important work— in a single-lot auction devoted to this masterpiece.
« Transcending the boundaries between sculpture and functional design, François-Xavier Lalanne's rhinoceros is the work of a true visionary, which we are thrilled to offer to collectors this fall. »

Agathe de Bazin, Head of Sale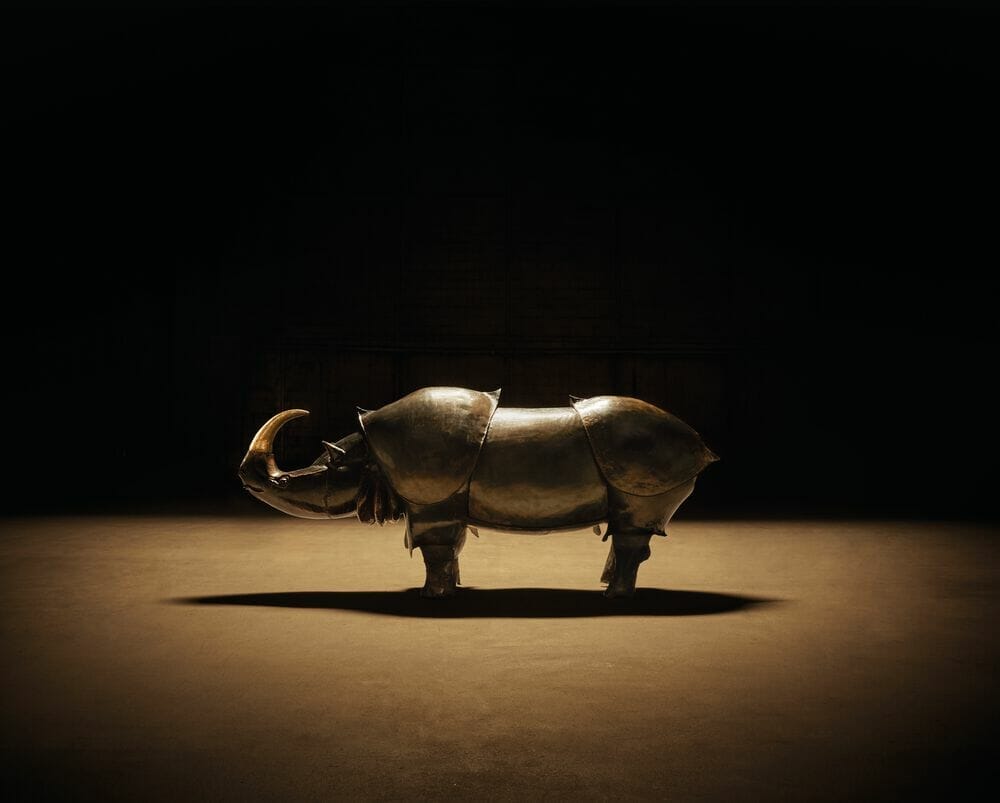 Contained within the armoured body of the animal is a hidden secretary desk, bar, safe and lamps— Lalanne's ingenious interpretation of a classic theme in the legacy of French decorative arts— furniture with secret compartments. In Rhinocrétaire I, the artist has wittily imbued this heritage with an avant-garde and very modern twist.
Heralding an extraordinary artistic career, Rhinocrétaire I stands as a seminal prototype in François-Xavier Lalanne's œuvre: all the elements that would become the hallmark of the artist's work are present. These would later culminate in his Moutons de Laine, Bar Les Autruches, Baignoires Hippopotame, and Bar YSL. Rhinocrétaire I encapsulates, prefigures, and sets the tone for the poetic excess and whimsy that would define the artist's signature for the next forty-four years. In creating this rhinoceros, François-Xavier Lalanne knew he was following in the footsteps of some of the world's greatest artists, from the representations of animals in the Paleolithic cave paintings at Lascaux, to works by Dalí or Dürer. As in the famous engraving by the German master, the rhinoceros does not simulate its real-life counterpart. However, it is Lalanne's expressive mastery of the metal that truly gives life to the sculpture.
Provenance
In 1964, François-Xavier Lalanne moved away from painting to dedicate himself fully to the three-dimensional world of sculpture, a path he tirelessly followed for nearly a half century in the company of his partner Claude. In a declaration of this new artistic direction, Lalanne unveiled his revolutionary Rhinocrétaire I at Paris' renowned Galerie J. Zoophites was the first joint exhibition by the two artists, who, from then on, would be known collectively as "Les Lalanne". Largely hidden from public eye since the 1964 Galerie J exhibition, Rhinocrétaire I was last alle, Le Rideau de Fer by Christo, and the very first solo exhibition of Cy Twombly in Paris. Jeanine Restany forged a close seen only briefly in 2010 at the Musée des Arts Décoratifs (MAD), as part of Les Lalanne, the
large retrospective dedicated to the couple. This museum-quality work presented for
sale was created two years before Rhinocrétaire II (1966), a later work, which is in the permanent collection of the MAD.
Rhinocrétaire I owes its existence in part to Jeanine Restany, a bold and brilliant trailblazer, who made her mark on the Paris art market with her dynamism and through the establishment of her influential Galerie J. She played a significant role in the emergence of the Nouveau Réalisme or New Realism movement, a European counterpart to Pop Art. She was also behind several emblematic projects, such as the iconic Feu à volonté exhibition by Niki de Saint Phalle, Le Rideau de Fer by Christo, and the very solo exhibition of Cy Twonbly in Paris. Jeanine Restany forged a close friendship with Les Lalanne, and to this day, Rhinocrétaire remained within her family. With a pre-sale estimate of €4,000,000–6,000,000, this stunning work will be the focus of a dedicated exhibition at Christie's Paris this fall, and a limited-edition catalogue will be available in early October.
INFORMATION
Exhibitions: 27 September to 3 October and 12-20 October | Christie's Paris – 9, avenue Matignon 75008 Paris
Christie's Paris 20/21 Week Sales:
LIVE – 19 October, Love Stories, from the collection of Anne & Wolfgang Titze
LIVE – 20 October, Rhinocrétaire I, François-Xavier Lalanne
LIVE – 20 October, Avant-Garde(s) incl. Thinking Italian
ONLINE – 11-24 October, Art Moderne online sale
Additional sales will be announced at a later date.
CATALOGUE :
A limited edition printed catalogue devoted to this iconic work will be published in early October in advance of the sale.