London and Paris – Christie's is honoured to present The Sam Josefowitz Collection, a series of sales across London, Paris and New York over the next two years. Launching in London on 13 October with Masterpieces from the Collection of Sam Josefowitz, a key element of Christie's Frieze Week programme, the cross-category Evening Sale will span Antiquities to Post Impressionism, Les Nabis to Giacometti furniture. This will be followed by three sales at Christie's Paris, coinciding with Paris + par Art Basel, comprised of an Evening Sale on 20 October, a Day Sale on 21 October and an online-only sale open for bidding from 12 to 25 October. Over 800 lots, with estimates ranging from £500 to £5 million, will be offered in 2023 and 2024, and are expected to realise in excess of £80 million.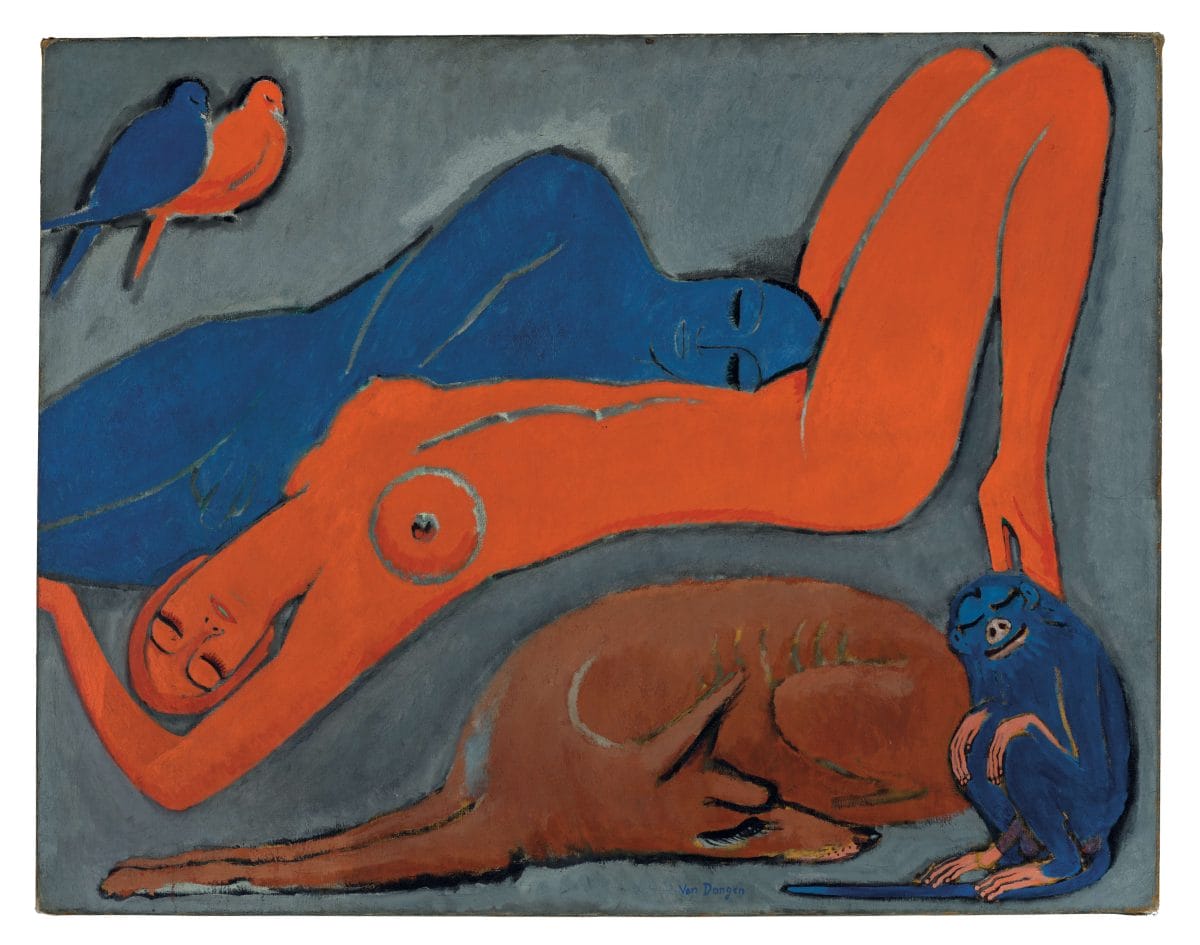 Jussi Pylkkänen, Global President, Christie's: "Sam Josefowitz was undoubtedly one of the greatest collectors of our time. His unrivalled inquisitiveness drove him to explore artists and artistic movements with an aesthetic and scholarly lens. He befriended relatives of those artists he collected, obtaining anecdotes that enlivened the works he lovingly brought together. It is an enormous privilege for Christie's to present these works, passing his knowledge and passion from one generation of collector to the next. During his lifetime, Sam lent works extensively to museums so that his works could be seen widely, and by cultivating new collectors through the sale of these exquisite works we are continuing the unerring work that Sam Josefowitz himself undertook."
SAM JOSEFOWITZ
Sam Josefowitz was a true polymath and forward-looking entrepreneur. Born in Lithuania in 1921, he moved with his family to Berlin in 1923, before settling in Switzerland. He went to the United States to study industrial engineering in 1938, and after World War II founded a highly successful business together with his brother David. Concert Hall Society sold classical music and jazz records through a subscription mail order club. Among the first of its kind, the company later diversified into books with branches in 20 countries worldwide. The success of the business enabled Sam to build an extraordinary art collection, acquiring works that spanned more than two millennia of artistic creation from across the globe. He moved back to Europe in 1965, and lived between Switzerland, the United States and England for the rest of his life. His homes became an important convening place for curators, scholars and collectors, filled with Sam's ever-expanding collections. He was featured in James Stourton's The Great Collectors of our Time and was awarded the Légion d'honneur by the French Ministry of Culture in 2004, before his death in 2015.
THE COLLECTION
The Collection was shaped by Sam's fervent pursuit of knowledge. Assembled over the course of six decades, his boundless curiosity and unerring eye for quality allowed him to embrace beauty, history, and many different cultures with a focus on artists and periods that had a transformative impact on the history of art. He was as intrigued by the sculptural reliefs of the Ancient Assyrians as he was the Impressionist canvases of Gustave Caillebotte, and held a particular appreciation for the radical painters of the Pont-Aven School, whom he had first discovered at an exhibition in Paris in 1955. At the same time, Sam was fascinated by the art of printmaking, and over the years established an unrivalled collection of Old Master prints, with a particular focus on Rembrandt. The Collection was built through purchases at auction, acquisitions from renowned dealers or, particularly in the case of the Pont-Aven works, flying out in a small plane to Brittany to purchase works directly from the friends and family of the artists. Sam also took the opportunity to meet artists in person and commissioned works directly from Kees van Dongen, who painted portraits of a number of family members, and Diego Giacometti, who created several rare furniture pieces for the family. Sam was at the forefront of collecting certain movements and periods, often focusing his acquisitions on artists who were yet to be recognised for their important contributions to the history of art. He would periodically sell or donate to museums, and regularly loaned works to exhibitions around the world, with a number of pieces on long term loan to museums including the Metropolitan Museum of Art in New York and the National Gallery, London.
THE PONT-AVEN SCHOOL
Sam attended the exhibition Bonnard, Vuillard and the Nabis at the Musée national d'art moderne in Paris in 1955. The following year, he visited Pont-Aven for the first time, the small town in Brittany where these artists had lived and worked. This marked a defining moment for Sam, and had an enormous impact on his activities, shaping the direction of one of the most renowned parts of his collection. He returned repeatedly to Pont-Aven over the years, meeting family and friends of the artists, and was fascinated by, and collected, all aspects of the movement. His Pont-Aven archive became a crucial and unique resource for scholars and curators, and was later donated to the Musée de Pont-Aven when it was established in 1985. Sam's passion for the movement was reflected in the pace at which this aspect of his collection grew. By the time of the Tate's 1966 exhibition 'Paul Gauguin and the Pont-Aven Group', he was able to lend 38 of the 320 loans included in the survey. In 1998, Sam made the partial gift to the Indianapolis Museum of Art of over 100 Pont-Aven works. Touring exhibitions of his collection visited over 20 museums around the world, including the Museum of Modern Art, New York; the Art Institute of Chicago and the Royal Academy of Arts, London.
REMBRANDT
Sam's interest in Rembrandt engravings began on a flight from Paris to Geneva, where he met Ira Gale, an engravings dealer who specialised in works by Rembrandt and Albrecht Dürer. Following an engaging discussion, Sam invited Gale to lunch the next day, and the two spent several hours exploring Rembrandt's prints. This fortuitous meeting marked the beginning of the greatest post-war collection of Rembrandt prints, which became a reference for collectors, scholars and curators alike. Self-Portrait etching at a Window (1648, estimate: £80,000-120,000) will be presented in the Masterpieces from the Collection of Sam Josefowitz: A Lifetime of Discovery and Scholarship on 13 October, with further works offered in the Old Masters Evening Sale and a dedicated Rembrandt Sale on 7 December in London as part of Classic Week.
DISCOVERY AND SCHOLARSHIP
A scholar and an explorer, Josefowitz was drawn to artists who also saw the world as a marvel. Scholarship and conversation were throughlines of Sam's collection and life: he was, above all, a man captivated by stories. Though he was not trained as an art historian, he employed his acute intelligence to learn about all aspects of his varied collections – from the complexities of the different states of a print to sourcing often scattered information about the Pont-Aven artists on whom little had been published. Understanding that art should be seen and appreciated, Sam was unwaveringly generous in sharing his collection with others. Paintings, prints, and sculptures were regularly loaned to museum exhibitions around the world, and he actively supported research and scholarship into these works.
For further information about The Sam Josefowitz Collection, please read Christie's online feature.
The Sam Josefowitz Collection: Schedule of Key Sales in 2023
– Masterpieces from the Collection of Sam Josefowitz: A Lifetime of Discovery and Scholarship, London, 13 October 2023
– La Collection Sam Josefowitz: Vente du Soir, Paris, 20 October 2023
– La Collection Sam Josefowitz: de l'Ecole de Pont-Aven jusqu'à l'Art Moderne, Paris, 21 October 2023
– La Collection Sam Josefowitz: Dessins et Gravures de l'Ecole de Pont-Aven Online, Paris, 12 to 25 October 2023
– Old Masters Evening Sale, London, 7 December 2023
– The Sam Josefowitz Collection: Graphic Masterpieces by Rembrandt van Rijn, London, 7 December 2023