Ben Hardy is an immensely talented English actor who has been making waves in the entertainment industry with his captivating performances. From his early days in the popular soap opera EastEnders to his breakout role in X-Men: Apocalypse, Hardy has showcased his versatility and ability to bring characters to life on screen. In this article, we will delve into the life and career of Ben Hardy, tracing his journey from a small town in England to the glitz and glamour of Hollywood.
Early Life and Education
Born on January 2, 1991, in Bournemouth, Dorset, Ben Hardy spent his formative years in the charming town of Sherborne. He attended Sherborne Abbey Primary School, where his passion for acting began to take shape. It was during his time at the prestigious Gryphon School that he had his first taste of performing arts, starring as Sergeant Francis Troy in a school film adaptation of Far from the Madding Crowd.
The Judas Kiss and Breakthrough in EastEnders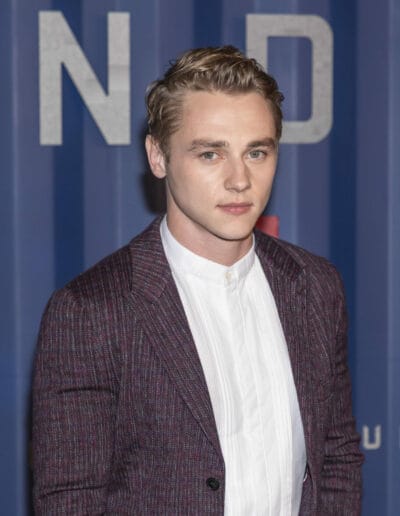 In 2012, Hardy had the opportunity to showcase his talent on the stage in the David Hare play The Judas Kiss. He portrayed the character of Arthur Wellesley, captivating audiences with his compelling performance. The play received rave reviews and eventually made its way to the West End's Duke of York's Theatre, solidifying Hardy's reputation as an emerging talent in the industry.
Hardy's big break came in 2013 when he joined the cast of the long-running BBC soap opera EastEnders as Peter Beale. Taking over the role from Thomas Law, Hardy brought a fresh energy to the character, instantly winning over viewers. His portrayal of Peter Beale showcased his ability to tackle complex emotions and captivate audiences with his on-screen presence. After two years on the show, Hardy bid farewell to EastEnders in 2015, leaving behind a legacy of memorable performances.
Transition to the Big Screen: X-Men and Bohemian Rhapsody
In 2016, Ben Hardy made his feature film debut in the highly anticipated superhero film X-Men: Apocalypse. Directed by Bryan Singer, Hardy portrayed the winged mutant Archangel, leaving a lasting impression with his intense performance. This breakthrough role catapulted him into the world of big-budget blockbusters, opening doors for more exciting opportunities.
Hardy's talent and versatility were further showcased in the 2018 biographical film Bohemian Rhapsody. He portrayed the iconic Queen drummer, Roger Taylor, with remarkable accuracy and charisma. His portrayal of Taylor earned him critical acclaim and a nomination for Outstanding Performance by a Cast in a Motion Picture at the 25th Screen Actors Guild Awards.
Expanding Horizons: Diverse Projects and Collaborations
Following the success of Bohemian Rhapsody, Hardy continued to diversify his portfolio with a range of projects across different genres. In 2019, he starred in the Netflix action thriller film 6 Underground, directed by Michael Bay. This collaboration allowed Hardy to explore his action-packed side and showcase his ability to hold his own in high-octane sequences.
In 2020, Hardy took on the role of Frank in the movie Pixie, a dark comedy that showcased his versatility as an actor. He shared the screen with Olivia Cooke and Daryl McCormack, delivering a memorable performance that added another layer to his already impressive repertoire.
Television Ventures: The Statistical Probability of Love at First Sight and The Girl Before
In January 2021, Ben Hardy joined the cast of the romantic film The Statistical Probability of Love at First Sight. Playing the role of Oliver, he shared the screen with Haley Lu Richardson, captivating audiences with their on-screen chemistry.
Later in the year, Hardy appeared in the HBO Max and BBC series The Girl Before. This thrilling drama series further showcased his ability to portray complex characters and engage viewers with his magnetic presence.
Awards and Recognitions
Throughout his career, Ben Hardy has received recognition for his exceptional talent and contributions to the entertainment industry. His portrayal of Roger Taylor in Bohemian Rhapsody earned him a nomination for Outstanding Performance by a Cast in a Motion Picture at the prestigious Screen Actors Guild Awards.
The Future: Exciting Projects on the Horizon
As Ben Hardy's star continues to rise, fans eagerly anticipate his upcoming projects. While details about his future endeavors may be scarce, one thing is certain – his talent and dedication will undoubtedly lead him to even greater heights in the industry.
Ben Hardy's journey from a small town in England to becoming a rising star in Hollywood is a testament to his immense talent and hard work. With his captivating performances, he has proven time and again that he is a force to be reckoned with in the entertainment industry. As he continues to take on diverse roles and collaborate with renowned filmmakers, the future looks incredibly promising for this talented English actor.