WASHINGTON, DC — July 12, 2023 – ARTECHOUSE, a pioneer in innovative, experiential art and the leading contemporary art space dedicated exclusively to technology-based art, is pleased to announce the DC premiere of Beyond the Light. The transformative exhibition fuses artistic expression, technology and science to explore the knowledge we have discovered on our journey as a civilization, using light as our guide. Developed in collaboration with NASA, the cinematic exhibition is a science-based artistic exploration of NASA's remarkable discoveries, including the latest images from the Hubble Space Telescope and James Webb Space Telescope which are brought to the public for the first time as an original artistic expression through unprecedented detailed depth and widest color spectrum of ARTECHOUSE's 270-degree, 100 million pixels projection canvas. Opening on the heels of a successful run in New York City, Beyond the Light will be on view at ARTECHOUSE DC starting September 15, 2023 and through the fall 2023.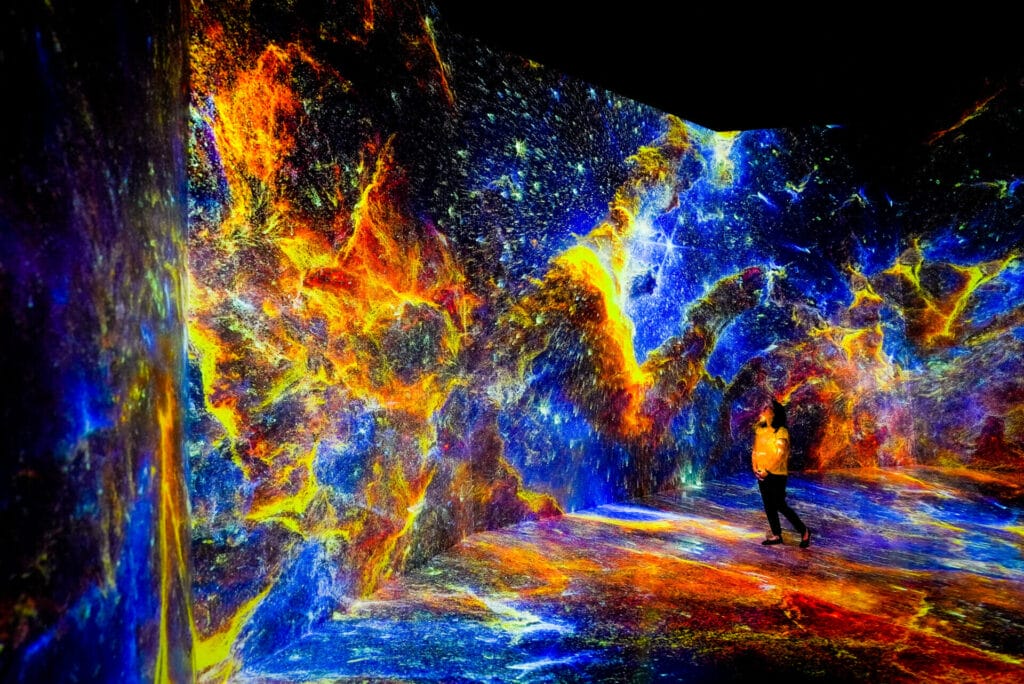 ARTECHOUSE has always been committed to creating a vital link between science and art, reinventing the way audiences experience knowledge. With Beyond the Light it continues this mission, bringing to life NASA's extensive catalog of data and frontier-pushing discoveries in a way that resonates with the heart and soul of every visitor.
The exhibition leverages the latest audio-visual technology and genre-bending approach of expressing ideas to reimagine NASA's scientific processes and discoveries. Throughout the exhibition's development, ARTECHOUSE Studio worked with NASA's Goddard Space Flight Center, the James Webb Space Telescope Mission team at the Space Telescope Science Institute (STScI), and Johns Hopkins University's William H. Miller III Department of Physics & Astronomy. ARTECHOUSE participated in ongoing working sessions with NASA's team of leading experts, including astrophysicists, heliophysicists, and NASA's Scientific Visualization Studio.
"Beyond the Light is the result of an extraordinary collaboration between ARTECHOUSE Studio and NASA, two entities driven by the pursuit of innovation and pushing the boundaries of what is possible. It is a project that encapsulates the convergence of two worlds—the world of groundbreaking science and data, and the world of artistic expression," said Sandro Kereselidze, ARTECHOUSE Co-Founder and Chief Creative Officer. "Conceptualized through many in-person and virtual sessions with NASA's team of scientists and specialists, this exhibition takes science and data that already exists and brings it to life artistically in a way that's never been done before. I'm really thrilled to see this exhibition premier in DC. "
The exhibition anchors on a 26-minute cinematic journey of how we have experienced light over time, presented in today's highest-resolution projection technology and multidimensional spatial audio system to deliver a feast for the senses. With the exquisite universe as its backdrop, Beyond the Light highlights the importance of light in our pursuit of knowledge and the evolution of technology that allows us to discover beyond our known experiences. It spotlights James Webb Space Telescope's perspective-bending discoveries of our early galaxies, transforming six captivating images Cosmic Cliffs, Tarantula Nebula, L1527, Cassiopeia A, Stephan's Quintet, and Pillars.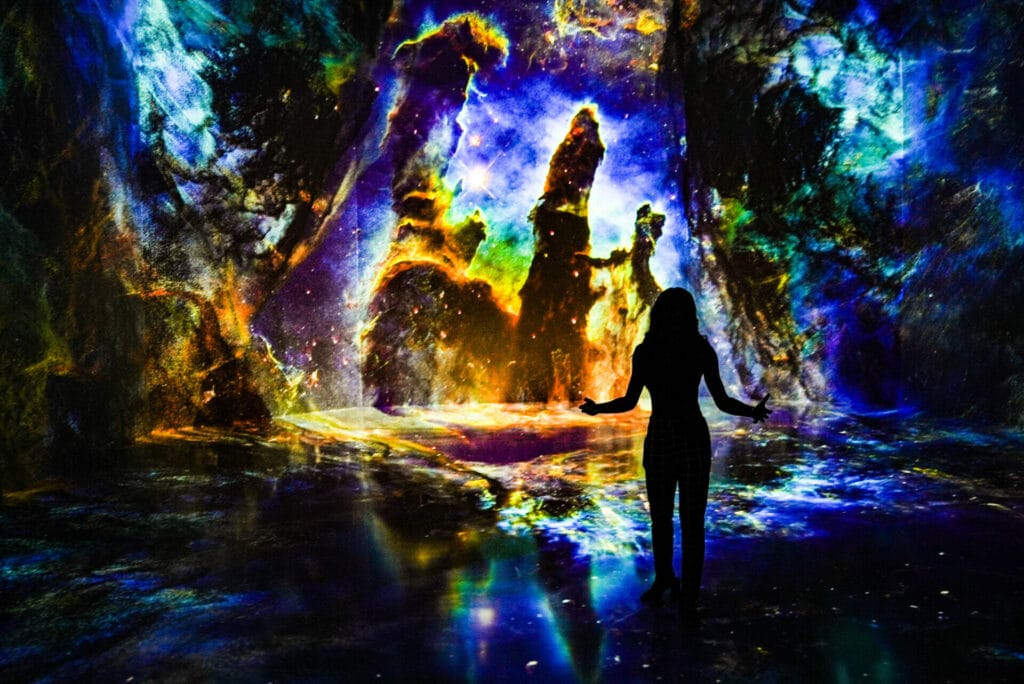 The title piece is accompanied by six multi-media installations, expanded from the New York City exhibition, that explore our immediate solar system through carefully curated stories and an artistic lens. Covering the moon, heliophysics, Mars rover, climate science, earthdata, and NASA Spinoffs, these present NASA's science in reimagined forms. They offer visitors an opportunity to discover the impact that a Carrington Event would have on our society, make music with an instrument made from elements of the periodic table, experiment with earthdata through fresh perspective, explore Mars rovers' dreams created through AI, and learn about NASA Spinoffs that are also solving problems for the everyday citizen (pacemakers, CAT scans, CO2 detectors and more).
"Beyond the Light is equal parts knowledge and imagination, aiming to create an audio-visual experience that bypasses verbalized storytelling, making a lasting impression at the visceral level," said Riki Kim, ARTECHOUSE's Executive Creative Director. "Our goal is to catalyze the audience's imagination and inspire them with the possibilities of 'the beyond."
The exhibition is the latest in a series of projects working with industry leaders such as the Society for Neuroscience, Pantone Color Institute, Nobel Prize Museum, and others for which ARTECHOUSE Studio has brought its expertise to realize complex and multifaceted presentations.
Beyond the Light will premiere at ARTECHOUSE DC, located just steps away from the National Mall.
Tickets are $17-25 with special pricing for families Monday–Friday and can be booked in advance online: https://www.artechouse.com/program/beyond-the-light-dc/.
About ARTECHOUSE:
An industry leader in the field of digital and experiential art, ARTECHOUSE expands the possibilities of art and how we experience it through cutting-edge technology-driven exhibitions and experiences. ARTECHOUSE connects progressive ideas, artists, and audiences to stimulate innovation and creativity at the intersection of art, science, and technology. What started as the nation's first digital art space is now a home, online and off, for technology-driven art innovation, with a mission to empower and fund the creation of new, experiential, and exploratory art forms that make an impact.
ARTECHOUSE Studio is an interdisciplinary team of designers, architects, producers, and storytellers working together to turn ideas and concepts into cutting-edge, technology-driven experiences.
LOCATION:
ARTECHOUSE DC is located at 1238 Maryland Avenue SW, Washington, DC 20024 in walking distance from the National Mall, L'Enfant Plaza and the District Wharf.
ADMISSION & HOURS:
General Hours: Monday – Sunday, 10AM – 10PM
Sessions are every 30 minutes. The last session begins at 9PM
XR Bar Hours: Monday – Thursday : 4PM – Close; Friday – Sunday: 11AM – Close
TICKETS: Visitors who book online save on visits to ARTECHOUSE DC
Anytime Tickets: $30 (Select a day, visit anytime)
General Admission: Starting at $25
Children (4-15): Starting at $17
Children (under 4): Free
Students & Seniors (65+): Starting at $20
Military & First Responders: Starting at $20
Weekday Family Pack: $ Per Person (minimum 2 max of 4 guests)
Live in Washington, DC? Save $5 off Admission Tickets Monday-Friday (Proof of Residency Required)
Cinematic Art Exhibition Beyond the Light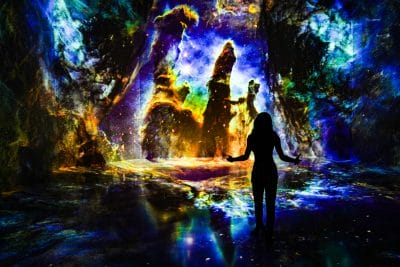 Event Title: Cinematic Art Exhibition Beyond the Light
Event Description: Submerging Audiences in NASA's Scientific Discoveries & Galactical Data from James Webb Space Telescope
Start date: September 15, 2023
End date: October 31, 2023
Location name: ARTECHOUSE
Address: 1238 Maryland Avenue SW, Washington, DC 20024