"Untold: Johnny Football" is a 2023 documentary movie about the life and career of former college football quarterback Johnny Manziel. The film is directed by Clay Tweel and released on Netflix on August 8, 2023.
Johnny Manziel is an iconic quarterback from the University of Texas who, at the age of twenty, became a national star. In just one year, he managed to turn the team's trajectory around and to become a symbol nationwide. Everyone wanted his autograph, everyone wanted to be with Johnny "Football," and of course, he and his friends saw the opportunity to turn the star's popularity into a business.
This implied, though, just one (big) problem: Johnny had a scholarship and couldn't get paid to play football.
About the Documentary
We are never let down by the "Untold," franchise, and this occasion was no exception to that "rule". It gives us an insight into what lies beyond the sport (football) and a better view of what goes on behind the scenes, it being a multimillion-dollar business involving universities, donations, and conflicts of interest.
It turn out that some of key players in this industry, cannot, according The NCAA regulations earn money if they are have a scholarship. Ouch! And having t0 function under such conditions, Manziel and his friends made up a rather bombastic story that made it all the way to national television. The narrative they made up was that he was a wealthy oil heir, which, eventually, put him up against the NCAA. His gesture, the one with money, was a clear statement of intent.
At just twenty years old, Johnny was the best college quarterback in the country, and his fame overwhelmed the University. The institution did not know how to stop all the media frenzy. Johnny would was not one to say no to a good party, and ended up living on the edge, partying with celebrities like Drake and LeBron James. There was something in the role he had played that changed everything in the NFL following his arrival.
Our Opinion
An outstanding documentary that helps us understand what goes on behind college football and the life of a football star: money, fame, and pressure.
Welcome to the world of what no one talks about, the world of the brutal business behind sports.
Release Date
August 8, 2023
Where to Watch
Untold: Johnny Football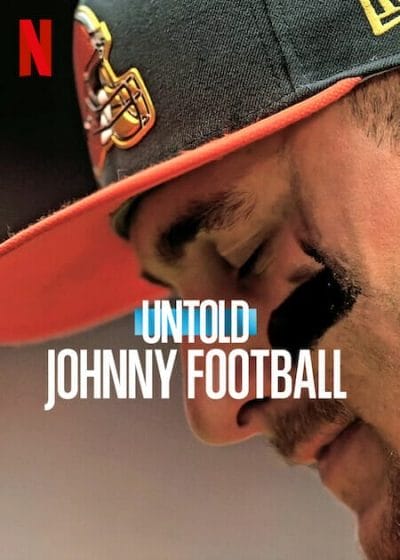 Movie title: Untold: Johnny Football
Movie description: This documentary traces the meteoric rise and precipitous fall of football star Johnny Manziel via interviews with friends, coaches and Manziel himself.
Date published: August 7, 2023
Country: United States
Duration: 70 mins
Director(s): Ryan Duffy
Genre: Documentary
Companies: Propagate Content, Stardust Frames Productions, Netflix
Our Opinion
Welcome to the world of what no one talks about, the world of the brutal business behind sports.