August 18, 2023 – A monumental moment today when Bonhams|Cars at its Quail Auction in California achieved $30.25 million for the rare 1967 Ferrari 412P Berlinetta making it the fourth most valuable Ferrari ever sold at auction. The result surpasses the previous record held by Bonhams|Cars for a 1954 Mercedes-Benz W198 for $29.6 million in 2013. This exceptional car is unparalleled in its rarity, as it's just one of two 412Ps constructed. The subject of an exhaustive nine-year restoration, this endeavor not only revitalized the car to its original glory but also rendered it fit for the open road. Its current finish also honors the rich racing history that began with Colonel Ronnie Hoare and his British Ferrari agency, Maranello Concessionaires Ltd., and extended to competing in the FIA World Championship of Makes, seeing it race at the Le Mans 24-Hours, Belgian Spa 1,000 Kilometers and in its home country at the BOAC 500 at Brands Hatch.
The announcement of this Maranello Masterpiece brought international attention and immense spectacle with enthusiasts and collectors filling the Bonhams|Cars' newly branded pavilion at the Quail Lodge & Golf Club during preview days. Offering a rare opportunity that hasn't come up in a quarter century, everyone in the room was aware of the historic importance as the 412P crossed the block. Over a thousand people gathered in the room to see the 412P soar to a remarkable $30.25 million.
"Thanks to its devoted lineage of owners and the stewardship of its seller, the 412P stands as an enduring piece of art that honors the Ferrari legacy," commented Rupert Banner, Global Head of Specialists at Bonhams|Cars. "It was a privilege to be entrusted with its sale and to attain such an exceptional outcome that respects that fully."
The Quail Auction presented 109 lots, achieving a total of $51 million.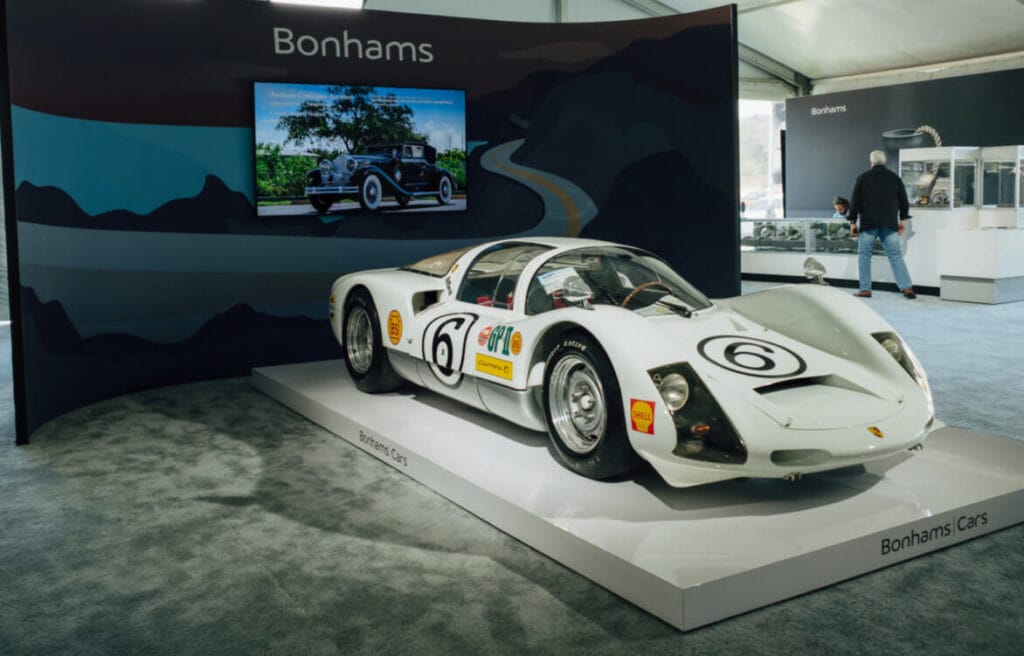 An additional moment of historical significance was the achievement of a world record for a Porsche 906. The 1966 'Carrera Six' Two-Seat Endurance Racing Coupe achieved over $2 million. This highly original matching-numbers example was driven by Shintaro Taki, Kenjiro Tanaka, Mashiro Hasemi, and Peter Bellamy and achieved multiple endurance race wins, including Suzuka 1,000 Kilometers in 1967 and 1969, and Suzuka 500 Kilometers in 1968.
Other highlights of the sale included:
A 1909 Lorraine-Dietrich 16.4-Liter Grand Prix Two-Seater garnered applause as the 114-year-old racing machine drove up the auction block and showcased its impeccable craftsmanship and enduring performance. The crowd then enjoyed a tense 15-minute bidding back-and-forth to eventually achieve two times its low estimate at $1.27 million.

A 1949 Talbot-Lago T26 Grand Sport Cabriolet, distinguished by its unique Dubos coachwork design, and is one of only 3 short chassis Talbot-Lago T26 Grand Sport Cabriolets to survive, achieved over $2 million.

A 1957 AC Ace Bristol Le Mans Roadster found a new owner for the first time in 60 years for a price of $764,000. This storied sports car was originally built as an AC Works demonstrator, it was transformed by Ken Rudd into an AC Bristol factory entry for the 1957 Le Mans 24 Hour race where it finished 2nd in class and 10th overall.