Huntington, NY – This exhibition of more than 50 artworks from the Heckscher Museum collection reflects the many meanings of home. The home is where daily life unfolds, work takes place, identities cohere and shift, memories form, and imagination take flight. The art on view in Raise the Roof: The Home in Art demonstrates the central role that our living spaces play in artists' imaginations. During and after the pandemic, the concept of home has evolved to an even deeper concept. On view January 28, 2023, through March 2024.
Raise the Roof debuts significant works by contemporary artists such as Courtney M. Leonard, Kenji Nakahashi, and Stella Waitzkin. Never-before-exhibited photographs by Larry Fink and prints by Robert Dash; and artworks by Romare Bearden, Salvador Dali, Olafur Eliasson, Miriam Schapiro, and Esphyr Slobodkina are featured. [image: Becky Suss, Living Room (six paintings, four plates, 2015, oil on linen. Gift from the collection of Ninah and Michael Lynne.)
"The majority of the artworks on view were created before the pandemic, demonstrating the central role that our homes have always played in our lives and in art," said Curator Karli Wurzelbacher, Ph.D. "In light of the recent pandemic, the meaning of home continues to evolve, and we connect to this artwork with new eyes."
Sponsored by Robin T. Hadley
Exhibition Highlights:
The exhibition is anchored by Becky Suss's large-scale painting Living Room (six paintings, four plates) (2015), which is based on her memories of grandparents' house in Great Neck, Long
Island. The array of artwork and objects she depicts captures the personalities and the values of the people who lived there. The ways that an interior can mirror the self are visible throughout the exhibition. [Image left, Salvador DaLi, Untitled, 1939, collage and gouache on paper. Gift of Mr. Alexander Liberman)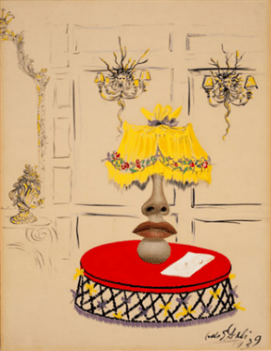 In Robert Dash's 1972 print series, he paired images of his Southampton house and garden with lines from Pulitzer Prize winning poet James Schuyler, who was a frequent visitor. Olafur Eliasson's Your House (2006) is a sculptural book that presents a scale model of his home. Flipping the pages gives viewers the sense that they are navigating through individual rooms. Amanda Valdez's New Me (2021) engages with domesticity, which has historically been associated with women. She creates abstractions by combining quilt patterns with bodily shapes and drips that relate, in part, to the experiences of motherhood. The inclusion of Valdez's painting brings into focus the labor of caregiving and homemaking that underpins the other art on view.
For Stella Waitzkin, her apartment and her art were one. Raise the Roof features sixteen of her sculptures, which she created by casting books, clocks, other everyday objects, and even her own face in luminous polyester resin. She lined the walls of her living space at the famous Chelsea Hotel with her creations, turning it into an immersive sculptural environment. The uncanny and whimsical quality of Waitzkin's art echoes throughout the exhibition, including in a collage by Salvador Dali. These works evoke the sense that spaces and possessions are alive with the traces of the artists' presence. [Image right: Stella Waitzkin, Small Closet Library, n.d., polyester resin, mixed media, and found objects. Gift of Kohler Foundation, Inc.]
Image : Stella Waitzkin, Small Closet Library, n.d., polyester resin, mixed media, and found objects. Gift of Kohler Foundation, Inc.]
About The Heckscher Museum
The Heckscher Museum of Art is in its second century as a source of art and inspiration on Long Island. Founded by philanthropists Anna and August Heckscher in 1920, the Museum's collection comprises more than 2,300 works from the 16th to the 21st century, including European and American painting, sculpture, works on paper, and photography. Located in scenic Heckscher Park in Huntington, the building is listed on the National Register of Historic Places. Visit Heckscher.org for more information. Ticketing and visitor safety guidelines available on Heckscher.org
Raise the Roof: The Home in Art | Featuring Significant Recent Acquisitions
Event Title: Raise the Roof: The Home in Art | Featuring Significant Recent Acquisitions
Event Description: An exhibition of more than 50 artworks from the Heckscher Museum collection reflects the many meanings of home.  The home is where daily life unfolds, work takes place, identities cohere and shift, memories form, and imagination take flight. Raise the Roof debuts significant works by contemporary artists such as Courtney M. Leonard, Kenji Nakahashi, and Stella Waitzkin.  Never-before-exhibited photographs by Larry Fink and prints by Robert Dash; and artworks by Romare Bearden, Salvador Dali, Olafur Eliasson, Miriam Schapiro, and Esphyr Slobodkina are featured. [image: Becky Suss, Living Room (six paintings, four plates, 2015, oil on linen. Gift from the collection  of Ninah and Michael Lynne.)
Start date: January 28, 2023
End date: March 31, 2024
Location name: Heckscher Museum
Address: 2 Prime Avenue, Huntington, NY 11743