NEW YORK— Heller Gallery is delighted to announce its debut participation at Art on Paper, where it will be presenting a curated selection of works by Kerry Miller, Mel Douglas & Sibylle Peretti. The fair, held at downtown Manhattan's Pier 36, opens on Thursday, September 7 and runs through Sunday, September 10. The gallery, which celebrates its 50th anniversary this year, is New York's leading dealer specializing in contemporary glass sculpture and design and champions artists whose materially based work is bending and breaking boundaries of the contemporary art world.

British artist Kerry Miller makes assemblages using vintage books and re-imagines their content using the illustrations found within. Cutting, tinting and collaging flowers, birds and characters from each selected volume she allows them to pop-up and grow from its original confines into a new dimension. As the digital world and culture wars threaten the freedom, availability and existence of books, Miller's sculptures are a poignant visual reminder that the richness and pleasure we derive from books is not only their content, but in the entirety of their physical presence.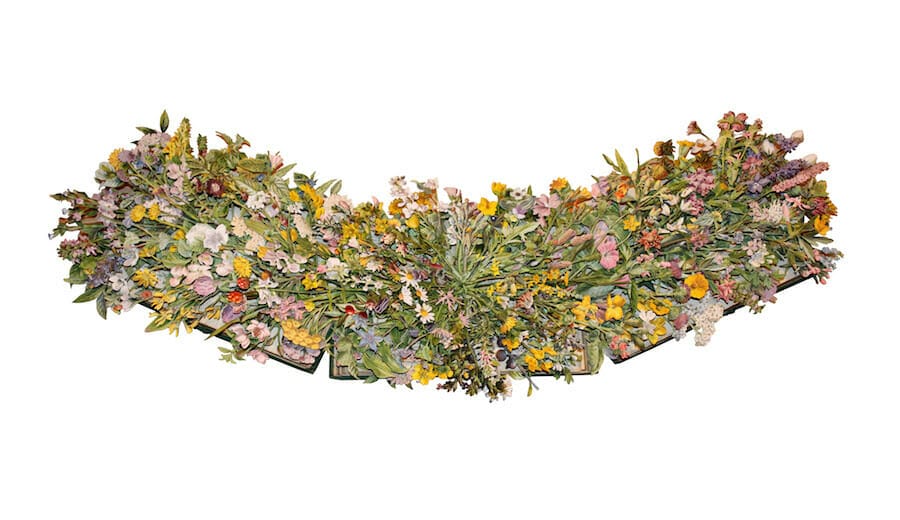 German-born artist Sibylle Peretti has won numerous awards and endorsements, including grants from the Pollock-Krasner Foundation and the Joan Mitchell Foundation as well as the 2013 United States Artist Fellowship for her sculptures and multimedia collages, which combine photography & drawing with surface interventions such as engraving, mirroring and glass slumping. Poetic narratives about the relationship between humans and the natural world, are the central themes in her work. Many of her layered pieces use a milky opaline glass from which she coaxes a subtle, but almost infinite range of whites, pinks, and blues, which lend even her most intimate pieces a sky-like exuberance and expansiveness.
Australian Mel Douglas has worked as an independent studio artist since graduating from Australia National University's Canberra School of Art in 2000. She received her PhD from ANU in 2020. Her subtle, elegant, minimalist work explores the potential, versatility, and flexibility of drawing on and with glass and has been praised as quiet, but strangely energetic and animated. In her pieces she considers how line and form negotiate and define the confines of space, structure and volume, creating three-dimensional cast glass objects as well as two-dimensional glass drawings on paper.
This year marks the 50th anniversary of Heller Gallery, founded in 1973 in New York. The gallery provides a curated platform for studio artists whose practice incorporates glass and whose work with the material broadens the horizons of contemporary culture. It identifies, nurtures, and represents emerging artists as well as prominent international masters. Numerous artworks have entered preeminent public collections as a direct result of Heller Gallery's exhibitions and advocacy. Among them are New York's Metropolitan Museum of Art and Museum of Modern Art, The Corning Museum of Glass, The Los Angeles County Museum of Art, The Museum of Fine Arts, Houston, the Victoria & Albert Museum, Musee des Arts Decoratifs de Louvre, and Hokkaido Museum, and more. http://www.hellergallery.com