'Heartstopper' is a British coming of age rom-com-drama series streaming on Netflix. It is written and created by Alice Oseman, and is based on her webcomic and graphic novel of the same name. Season 1 was released on Netflix April 2022, and fans will be happy to know that season 2 is now available too.
'Heartstopper' Season 2 brings us another 8 episodes following the good "old" characters: Charlie, Nick, Elle and Tao. Together, or apart (no spoilers here), they are still confronting the challenges ahead of them as they are growing up.
Season 1 was received with critical acclaim, particularly for its tone and pacing, as well as its portrayal of LGBT people. It was nominated nine times and won innumerable awards, among them 3 Children's and Family Emmy Awards; 1 for Best Musical Moment at the 2022 MTV Movie & TV Awards. The soundtrack deserves a mention, as it became rather popular.
'Heartstopper' tells a heartwarming story in down to earth, yet entertaining way. It covers topics that are relevant to the young folks, such as bullying, young love, LGBTQ+ challenges, and friendships, and all the ups and downs teen years entail.
For those seeking a human, sweet and entertaining series, 'Heartstopper' is it. In the same way the first season was a success among young audiences, we are betting season 2 will be so too.
Release Date
August 3, 2023
Where to Watch "Heartstopper"
Created by Alice Oseman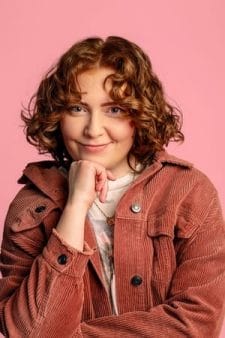 Alice Oseman is an accomplished author, illustrator, and screenwriter, born in 1994 in Kent, England. She has authored four young adult contemporary novels centered around the trials and tribulations of teenagers: Solitaire, Radio Silence, I Was Born for This, and Loveless. Additionally, she is the creative mind behind the LGBTQ+ young adult romance webcomic Heartstopper, which has been published in physical form by Hachette Children's Group. Alice is also the writer, creator, and executive producer of the television adaptation of Heartstopper, slated for release on Netflix. Read More
The Cast
Cormac Hyde-Corrin
Corinna Brown
Jenny Walser
Heartstopper
Name: Heartstopper
Description: Teens Charlie and Nick discover their unlikely friendship might be something more as they navigate school and young love in this coming-of-age series.
Seasons: 2
Country: United Kingdom
Director(s): Alice Oseman
Writer(s): Alice Oseman
Cinematography: Diana Olifirova
Music: Adiescar Chase
Genre: Comedy, Drama
Actor(s): Joe Locke, Kit Connor, William Gao, Yasmin Finney, Cormac Hyde-Corrin, Corinna Brown,
Companies: See-Saw Films, Netflix