Guns & Gulaabs is a 2023 Indian Hindi-language romantic thriller streaming on Netflix. it is created and directed by Krishna D.K. and Raj Nidimoru, and produced under the banner D2R Films in collaboration with Netflix. The series stars Rajkummar Rao, Dulquer Salmaan, and Adarsh Gourav.
Life in a fictional small town serves as an excuse for a blend of romance and gangster thriller with a comic touch, or at least that's what the trailer of this Hindi television series proposed.
The reality has been far less thrilling than we expected, much more romantic than a crime story demanded, and less Tarantino-esque than we had assumed.
In short, and although different, it's a blend that doesn't quite convince us in its pacing and treatment.
Synopsis
The series is set in the fictional town of Gulaabgunj, which is run by a drug cartel. An unprecedented opium deal pulls a big-city cop and a lovesick mechanic into its chaotic clutches. The series explores themes of love, loss, crime, and redemption.
About the Series
From the beginning, it's a romantic series in an impossible game to bring the criminal side of the story to its most sentimental side. It's a different touch, not entirely original, but with a slow and paced rhythm, more focused on the love stories of the protagonists and with less humor than initially promised.
Is it disappointing? To some extent, because the proposal called for more action, faster editing, and much more dynamism in a slow, excessively paced treatment for this type of story.
However, it does have its original and fun touch, although administered in such small doses that it ends up disappointing and will cause many viewers to not reach the end of the story.
Good premise, the mix between opium trafficking and character development in a fictional town, but the story fails to deliver on that promising premise with a cinematic approach that matches it.
Our Opinion
A series that will ultimately add to Netflix's list of forgettable shows. It was a premiere we were eager to watch, but it ended up disappointing us.
The Cast
Dulquer Salmaan
Dulquer Salmaan is an actor from India who mostly works in Malayalam cinema. He started his career with the Malayalam movie Second Show in 2012, which earned him the Filmfare Award for Best Male Debut. He was also recognized for his first Tamil film, Vaayai Moodi Pesavum, in 2014. In 2015, he won the Kerala State Film Award for Best Actor for his outstanding performance in the film Charlie.
Adarsh Gourav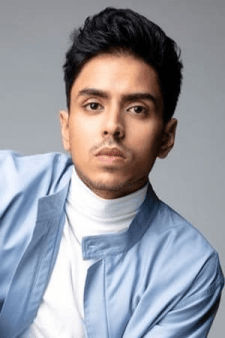 Adarsh Gourav, born in 1994, is an accomplished actor. He is recognized for his roles in popular films and series such as My Name Is Khan (2010), Leila (2019-), Rukh (2017), TVF's Hostel Daze (2019-), and Die Trying (2018).
Rajkummar Rao
Ajay Kumar Rao Yadav, known professionally as Ajkummar Rao, is an Indian actor who primarily works in Hindi films. He has made a name for himself in the Hindi film industry and has been honored with a National Film Award as well as a Filmfare Award from three nominations.After completing his education, he relocated to Mumbai to pursue a career in films. His first appearance on the big screen was in the 2010 experimental anthology film titled "Love Sex Aur Dhokha". Following that, he played small roles in several highly successful Hindi films over the next two years. However, it was his breakthrough role in the 2013 drama film "Kai Po Che!" that brought him significant recognition. His performance in the film earned him a nomination for the Best Supporting Actor award at Filmfare. That same year, he received both the Filmfare and National Film Award for Best Actor, as well as the Critics Best Actor award, for his portrayal of Shahid Azmi in the biographical drama "Shahid". In 2014, Rao played the lead role in the successful romantic comedy "Queen" and the drama "CityLights". He garnered critical acclaim for his portrayal of a journalist in the biographical drama "Aligarh", which earned him a second nomination for Best Supporting Actor at Filmfare.
Guns & Gulaabs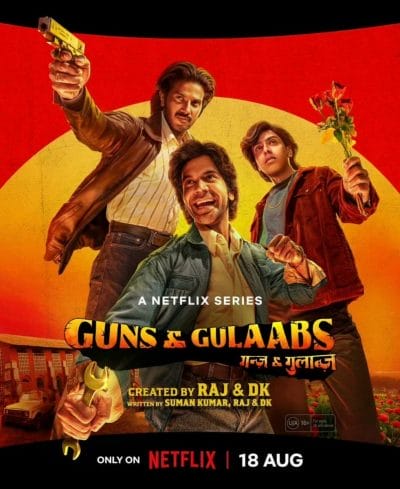 Name: Guns & Gulaabs
Description: The charm of the 90s and the misfits that land themselves in a world of crime, still keeping their love and innocence intact. Where will their paths lead them?
Seasons: 1
Country: India
Director(s): Krishna D.K., Raj Nidimoru
Writer(s): Sumit Arora, Suman Kumar
Cinematography: Pankaj Kumar
Genre: Comedy, Action, Thriller, Romance
Actor(s): Dulquer Salmaan, Adarsh Gourav, Rajkummar Rao, TJ Bhanu, Gulshan Devaiah, Pooja Gor
Companies: D2R Films, Netflix
Our Opinion
A series that will ultimately add to Netflix's list of forgettable shows. It was a premiere we were eager to watch, but it ended up disappointing us.