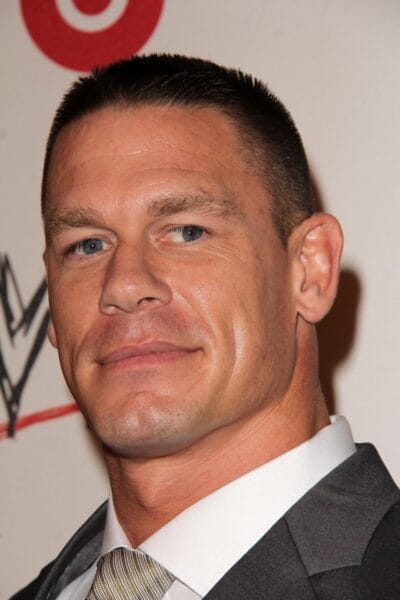 John Felix Anthony Cena is an American professional wrestler, actor, and former rapper who is currently under contract with WWE. He is widely recognized as one of the most accomplished professional wrestlers in history, having achieved the same number of world championship reigns as Ric Flair.
Originally from West Newbury, Massachusetts, Cena relocated to California in 1998 with the intention of pursuing a career as a bodybuilder. However, in 1999, he made the transition to professional wrestling and made his debut with Ultimate Pro Wrestling (UPW). Subsequently, in 2001, he signed with the World Wrestling Federation (WWF, now known as WWE), initially being assigned to Ohio Valley Wrestling (OVW). Cena rose to prominence within WWE by adopting the persona of a charismatic rapper. In 2004, he won his first singles title, the United States Championship. The following year, he captured the WWE Championship for the first time and subsequently transformed his character into a clean-cut, heroic figure often compared to Superman. For the next decade, he served as the face of the company and its franchise player.
With a total of 16 world championship victories, Cena shares the record for the most title reigns with Ric Flair. He has won the WWE Championship on thirteen occasions, a feat unmatched by any other wrestler. Additionally, he has held the United States Championship five times, won the world tag team championship four times, emerged victorious in the Royal Rumble match twice, triumphed in the Money in the Bank match once, and headlined numerous major WWE pay-per-view events, including WrestleMania, on five occasions. While Cena's professional wrestling career has garnered mixed reactions from both critics and audiences, he has received praise for his character work and promotional abilities, although some have criticized his perceived overexposure and on-screen positioning relative to other wrestlers.
Beyond the realm of professional wrestling, Cena has ventured into acting, making his debut in The Marine (2006). He has since received acclaim for his performances in Trainwreck (2015), Ferdinand (2017), Blockers, and Bumblebee (both 2018). In 2021, he starred in F9 and portrayed the character Peacemaker in The Suicide Squad, both in the film and its eponymous television series. Cena's first studio album, You Can't See Me (2005), achieved platinum certification. Outside of his entertainment endeavors, Cena is renowned for his involvement in numerous charitable causes, particularly with the Make-A-Wish Foundation, where he holds the record for granting over 650 wishes.