(Germany) – The Estate of the German-French sculptor Hans Arp (1886–1966), The Stiftung Arp e.V., announces an unprecedented donation of 220 plasters to 10 museums worldwide. More than just a donation, it marks the initial step in a growing formation of international museums that will support each other in new models of cooperative research across diverse perspectives and expertise, the first of its kind for an artist's estate. The gift marks a significant step forward in the international recognition of the artist's legacy and contribution to the modern arts, with over half of the institutions receiving their first ever Arp work, including those in Wakefield (UK), Oslo (Norway) and The Hague (Netherlands).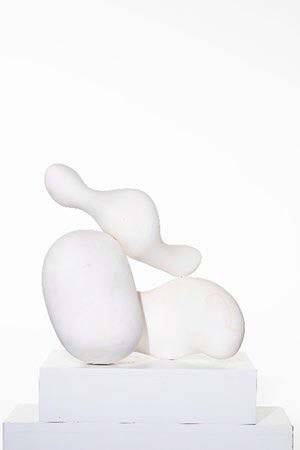 Initial museums included are Nasher Sculpture Center, Dallas, TX, US; Museum Beelden aan Zee, The Hague, The Netherlands; Harvard Art Museums, Cambridge, MA, US; Skissernas Museum, Lund, Sweden; National Gallery of Victoria, Melbourne, Australia; Nasjonalmuseet, Oslo, Norway; Arp Museum Bahnhof Rolandseck, Rolandseck, Germany; The Hepworth Wakefield, UK; ALBERTINA, Vienna, Austria; Gerhard-Marcks-Haus Bremen, Germany. Each institution receives around 20 works – many of that have never been shown to the public before – focused on a range of plasters and bronzes from 1933-1966.
The donation expands on the work of Arp's widow Marguerite Arp-Hagenbach in asserting the plasters as integral to understanding the artist's oeuvre – whilst ensuring they would never go to market, as per Hans Arp's request. In particular, they serve as invaluable resources for scholars, researchers, and artists who seek to deepen their understanding of the artist's creative process and vision. The artist's intensive use of plaster was central to his work, allowing him to make and remake, apply, and test dynamic modeling and sculpting techniques. Out of the cyclical logic of his working method emerged a world of polymorphous forms; together, they represented an integral process of creation before Arp finalized the works in bronze.
Stiftung Arp e.V. is dedicated to preserving and promoting the legacy of Arp and is committed to making his work accessible to all audiences. Donating to multiple museums ensures that Arp's work can reach locations where there has yet to be an extensive engagement to date, such as Australia; more museums will be added over time, focusing on expanding toward Asia and Africa. The unique positioning of the project supports academic and curatorial freedom, generating active and dynamic dialogue around Arp's practice through engaging with a new generation of curators globally. It allows Arp's work to be considered from fresh perspectives, providing new insights into his legacy, as well as ensuring that the foundation benefits from various institutions' different structures, perspectives, and diverse expertise.
Director of Stiftung Arp e.V., Engelbert Büning, comments, "We are honored to share this important gift with a carefully selected group of museums that will continue to honor the importance of the artist's processes and legacy for international audiences.Arp's cultural identity was formed during a long period of charged nationalism; in reaction, the artist refused to confine himself to a single language, nationality, artistic movement, or material.Shifting between abstraction and representation, organic and geometric forms – his work continues to assert the importance of art as a way to break down boundaries. By expanding research and dialogue around Arp, the donations ensure that scholars and audiences can deepen research into this important part of art history whilst recontextualizing how his output continues to resonate and hold relevance to audiences across the world today."
About Hans (Jean) Arp
Hans Peter Wilhelm Arp (1886-1966) was born on September 16, 1886, in Strasbourg to German-Alsatian parents. He co-founded the Dada movement in Zurich with Hugo Ball, Richard Huelsenbeck, and Tristan Tzara. In 1925, he exhibited alongside de Chirico, Ernst, Klee, Man Ray, Masson, Miró, and Picasso at the first exhibition of the surrealists at the Paris Galerie Pierre, followed by his first solo exhibition at the Galerie Surréaliste in Paris in 1927. He was part of two major exhibitions at the Museum of Modern Art in New York, including his first US retrospective in 1958.
Arp has shown his large-scale monumental sculpture internationally, including at the Cloud Shepherd for the University of Caracas in Venezuela, the Harvard Graduate Center in Cambridge, and the Venice Biennial (1954), where he was awarded the Grace Prize for Sculpture. His poems have been published in the French journals Minotaure and Le Surréalisme au Service de la Révolution.
About Stiftung Arp e.V.
Since 1977, the Stiftung Arp e.V. has overseen a great part of the artistic estates of the Franco-German sculptor Hans Arp and of the Swiss artist Sophie Taeuber-Arp. Its central purpose is to oversee the artists' estates and foster research; this is achieved primarily through in-house research, annual international academic scholarships, biennial conferences, and publications.
The foundation also ensures the work of Arp and Taeuber-Arp remains accessible to a wide international audience through the support of exhibitions, loans, publications and two online databases. The archive and the collection are accessible on request at the Foundation's Schaulager in Berlin.
The Stiftung Arp e.V. also owns the copyright to Hans Arp's artistic oeuvre.