On May 29, 2023 the Miraculous Blood Chapel and Sacristy in Prignitz, Germany celebrated the inauguration of new, redesigned cathedral windows by Leiko Ikemura. Built in the late middle-ages, the church was a cross point for pilgrims traveling through Europe and has a long history of destruction, rebuilding and extending its space through new structures. Next to the church's antiques, painted doors, windows and church lights from the 14th and 15th century, Leiko Ikemura's windows radiate in strong colors and fill the space with warm light. The visual theme of Ikemura's work reflects the history of this place of worship – the fires of destruction in the middle ages and the churches relation with the miracle of the "Bleeding Host" which it was named after.
For more information please visit the church website.
Leiko Ikemura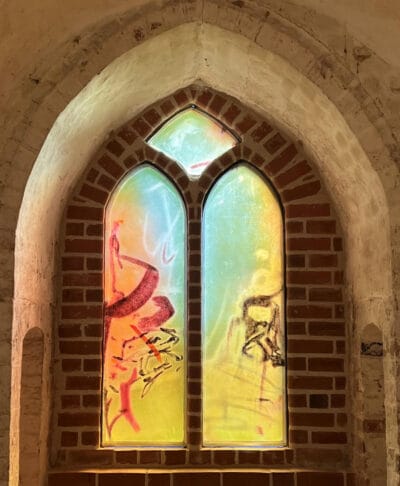 Ikemura departed from Japan in 1972 to study art in Seville, Spain, before moving to Switzerland in 1979, and then settling in Germany in 1991. Like her European peers Marlene Dumas (b. 1953) and Miriam Cahn (b. 1949), Ikemura invokes the age-old authority of representational oil paint to address contemporary matters of social justice, ecology, ancient folktales, and the sublime.
Representations of women have been central to her practice since the beginning of the 1980s, with her early drawings and pastels demonstrating the tough Expressionist roots of her style and approach to subject matter. In the early 1990s, Ikemura began to title her almost life-size figurative paintings and sculptures Girls as a veiled critique of the simplistic and infantilized representation of women as passive and voiceless in Japanese Manga and Kawaii culture. The Girls paintings also denote a change in Ikemura's palette, technique, and m aterials; as she began to paint and pour radiant passages of magenta, lapis, violet, tangerine, lemon, apricot in contrasting consistencies; on semi-transparent burlap canvases that she had prepared with rich umber, chocolate, and ebony grounds.
Selected solo museum exhibitions include: The National Museum of Modern Art, Tokyo (2011); Museum für Asiatische Kunst, Staatliche Museen zu Berlin (2012, 2022); Staatliche Kunsthalle Karlsruhe (2013); Staatliches Museum für Kunst, Nürnberg (2014); Museum of East Asian Art, Cologne (2015); National Art Center, Tokyo (2019); Kunstmuseum Basel (2019); Nordiska Akvarellmuseet, Skärhamn (2019); Centro de Arte Contemporá-neo de Caja de Burgos (2019); CAC La Ciutat de les Arts i les Cincies Valencia (2021); Sainsbury Center for Visual Arts, Norwich (2021); and Herbert Gerisch-Stiftung, Neumünster (2022). Forthcoming solo museum exhibitions in 2023 include: the Georg Kolbe Museum, Berlin, the Museo de Arte Zapopan in Guadalajara, Mexico and Museum de Fundatie, Zwolle, Netherlands. The artist works and lives in Berlin, Germany.