Demon 79 is the fifth episode of the sixth season of the popular television series, Black Mirror. Directed by Toby Haynes and written by Charlie Brooker, the episode takes the viewers on a nostalgic journey from the very first scene, imitating the style of productions from the past, including the opening credits and the characteristic B-movie style of the time.
The plot mixes comedy and terror, featuring a demon dressed in a Boney M costume, leading an innocent girl to commit three bloody crimes to prevent the apocalypse. As always, Black Mirror takes its viewers on a journey beyond their expectations.
The episode features Dammer encountering Boney M, a political shift, and a changing reality, reminiscent of movies like "Back to the Future" or "The Twilight Zone".  The parody is very well executed, effective, and intelligent, leaving viewers with a good taste in their mouth, both technically and stylistically.
Demon 79 aims to turn Black Mirror into the new The Twilight Zone of its time by playing with similar themes. The episode highlights the encounter between English and American cultures, something that Charlie Brooker has explored throughout the latest season, which is set in England but produced by an American company.
The episode intends to forget the slight disappointment of the previous season and return to the show's roots, especially in terms of quality. The episode is excellent technically, very entertaining at times, and features a sinister genie reminiscent of Aladdin that is worth watching.
The idea of influence on events is interesting, but the episode stands out for its quality at the cinematographic level. It is almost impossible not to recognize the inherent and fully conscious parody of so many TV shows within the episode, making it a meta-cinematographic exercise that is worth watching.
Above all, Demon 79 tells us that Black Mirror has returned to its standards of quality, ideas, and satire.
Release date
June 15, 2023
Where to Watch Demon 79
Director
The Cast
Demon 79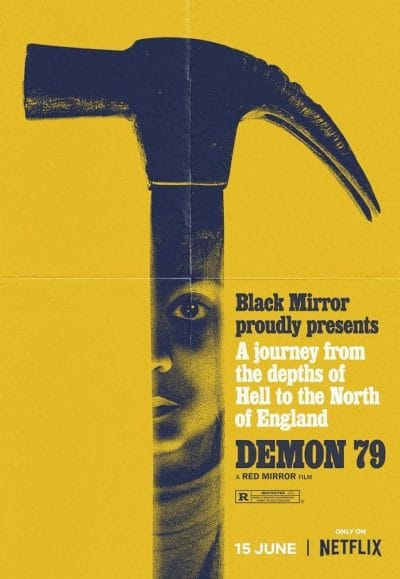 Title: Demon 79
Description: Northern England, 1979. A meek sales assistant is told she must commit terrible acts to prevent disaster.
Date published: June 6, 2023
Episode number: 5
Part of season: 6
Part of series: Black Mirror
Production company: Netflix
Director(s): Toby Haynes
Actor(s): Paapa Essiedu, Katherine Rose Morley, David Shields, Anjana Vasan
Genre: Netflix
Our Opinion
Demon 79 tells us that Black Mirror has returned to its standards of quality, ideas, and satire.