David Zwirner is pleased to participate in Art Basel 2023. The booth will feature new and historic work by Njideka Akunyili Crosby, Josef Albers, Francis Alÿs, Lucas Arruda, Huma Bhabha, Carol Bove, Noah Davis, Marlene Dumas, Yayoi Kusama, Sherrie Levine, Agnes Martin, Joan Mitchell, Oscar Murillo, Alice Neel, Elizabeth Peyton, Sigmar Polke, Neo Rauch, Ad Reinhardt, Gerhard Richter, Bridget Riley, Robert Ryman, Thomas Ruff, Richard Serra, Steven Shearer, Wolfgang Tillmans, and Luc Tuymans, among others.
Yayoi Kusama will be a major focus of the booth. David Zwirner has worked with Kusama since 2013, and this presentation celebrates ten years of collaboration. On view will be a selection of paintings, including paintings from the artist's Infinity Nets series and My Eternal Soul series, a self-portrait from 2014, a pumpkin painting from 2013, and a one-meter-tall mirrored bronze sculpture, Pumpkin (M) (2016). A selection of these works will be explored in an Exceptional Works feature on the artist on davidzwirner.com. Kusama currently has a solo exhibition of new paintings, sculptures, and an Infinity Mirror Room across all three of David Zwirner's 19th Street locations in New York, on view through July 21.
The booth will present a significant work from 1991 by Gerhard Richter, a prime example of one of the artist's Abstrakte Bilder (Abstract Paintings), which mediate two primary currents in his oeuvre: painting and photography. Carefully constructed and highly analytical, Richter's abstract compositions are integral to his ongoing investigation into the painted medium's historical and material properties, as well as the notion of the picture plane itself.
Concurrently at Art Basel Unlimited, David Zwirner will debut Richter's sculpture STRIP-TOWER, (2023) (see below). This follows the solo exhibition of Richter's work at David Zwirner's Chelsea location in March–April 2023, his first show with the gallery after the announcement that it would represent the artist in December 2022.
The gallery will also present a large Joan Mitchell oil on canvas from c. 1959, the year the artist permanently relocated to France. Untitled, c.1959 is exemplary of the paintings of this important, pivotal period in the artist's oeuvre and demonstrates Mitchell's singular mastery of composition and control, embodying her distinctive style and approach to abstraction.
Figuration will also be explored at the David Zwirner booth, with important works by Njideka Akunyili Crosby, Noah Davis, Marlene Dumas, Alice Neel, Elizabeth Peyton, Steven Shearer, and Neo Rauch on view. The works by Davis, Peyton, and Rauch will be the subjects of online presentations as part of the Exceptional Works series on davidzwirner.com.

At Art Basel Unlimited, David Zwirner will be presenting works by six gallery artists: Stan Douglas, Felix Gonzalez-Torres, Barbara Kruger, Gerhard Richter, Steven Shearer, and Franz West. 
David Zwirner Artists at Art Basel Unlimited:
Evening (1994) is one of Douglas's earliest multichannel installations. In the work, the artist looks at the transformation of television news broadcasts, a medium that was overtaking radio as the primary conduit of information distribution in the 1960s. Commissioned by the Renaissance Society, Chicago, the work reconstructs newscasts from two different nights in the city—January 1, 1969 and January 1, 1970.
The installation consists of three adjacent screens, simultaneously presenting the news from three fictionalized Chicago-area stations, WAMQ, WBMB, and WCSL, each in different stages of transitioning to "Happy Talk,", the conventional style of presenting the news with a smile, regardless of what was being reported, which dates to that era. The sound system is arranged so that, in certain areas, a viewer may hear the cacophony of all three stations at once, or can listen to one station by standing in front of a particular screen. The work's title is a double entendre—simultaneously referencing the nightly broadcasts and the even-ing of the overall tone of the news. The news stories reported include the US's ongoing war in Vietnam, the Chicago Seven trial, and the first inquest into the assassination of Black Panther Deputy Chairman Fred Hampton. None of the stories are reported in a way that reflects their complexity or irresolution, though ultimately the subject of the work is not the events themselves, but the way in which they are reported.
Evening remains a prescient meditation on the way in which information is presented, received, and distributed, presaging the rise of cable news, the internet, and "fake news." With this work, Douglas posits that the conflicting narratives that were common in the 1990s—and even more so today—have become the baseline condition of contemporary media, and are a direct result of this moment in time.
Evening will be the subject of an online presentation as part of the gallery's Exceptional Works series on davidzwirner.com.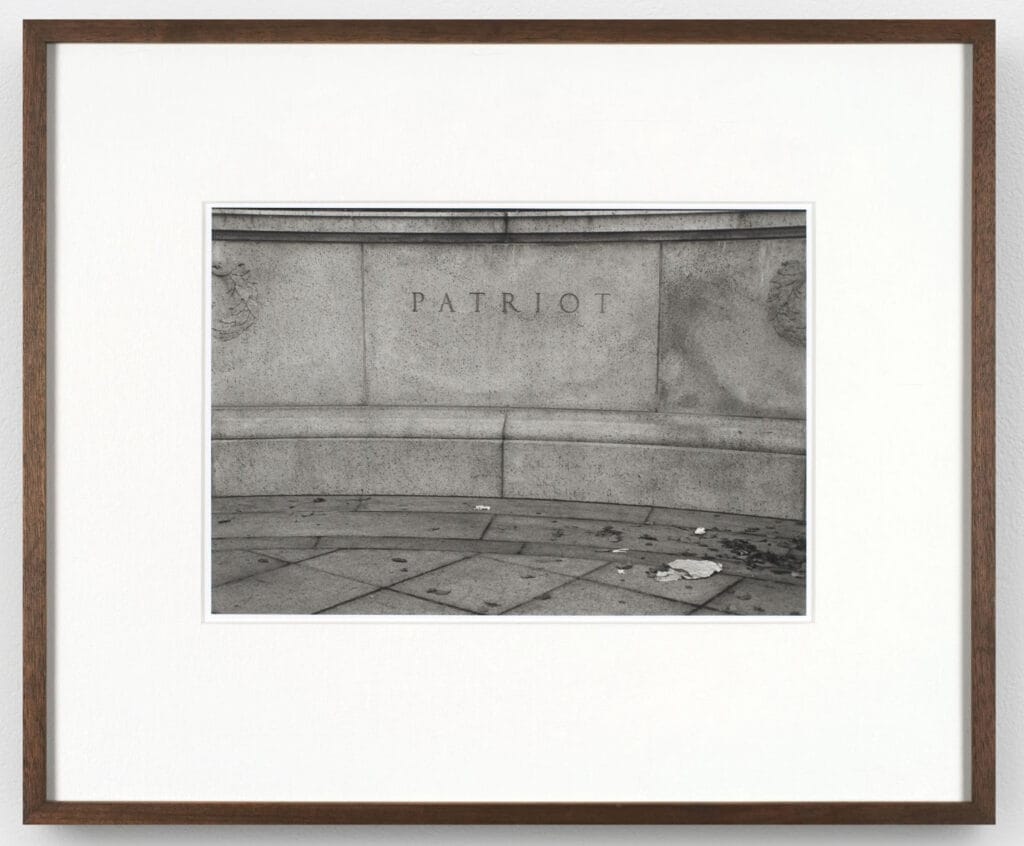 The present work comprises thirteen photographs, twelve of which are exhibited, each depicting a single word engraved on the memorial to Theodore Roosevelt that, until recently, stood outside the American Museum of Natural History in New York. Eliding the equestrian statue of the former president that stood at the monument's center, the artist here isolates each of the heroic attributes that adorn the surrounding space.
The photographs first appeared in the influential anthology of critical writings, Out There: Marginalization and Contemporary Cultures (1990), edited by Russell Ferguson, Martha Gever, and Trinh T. Minh-ha, for which Gonzalez-Torres contributed images, and were first exhibited in the artist's groundbreaking 1991 exhibition at Andrea Rosen Gallery, New York, Every Week There Is Something Different.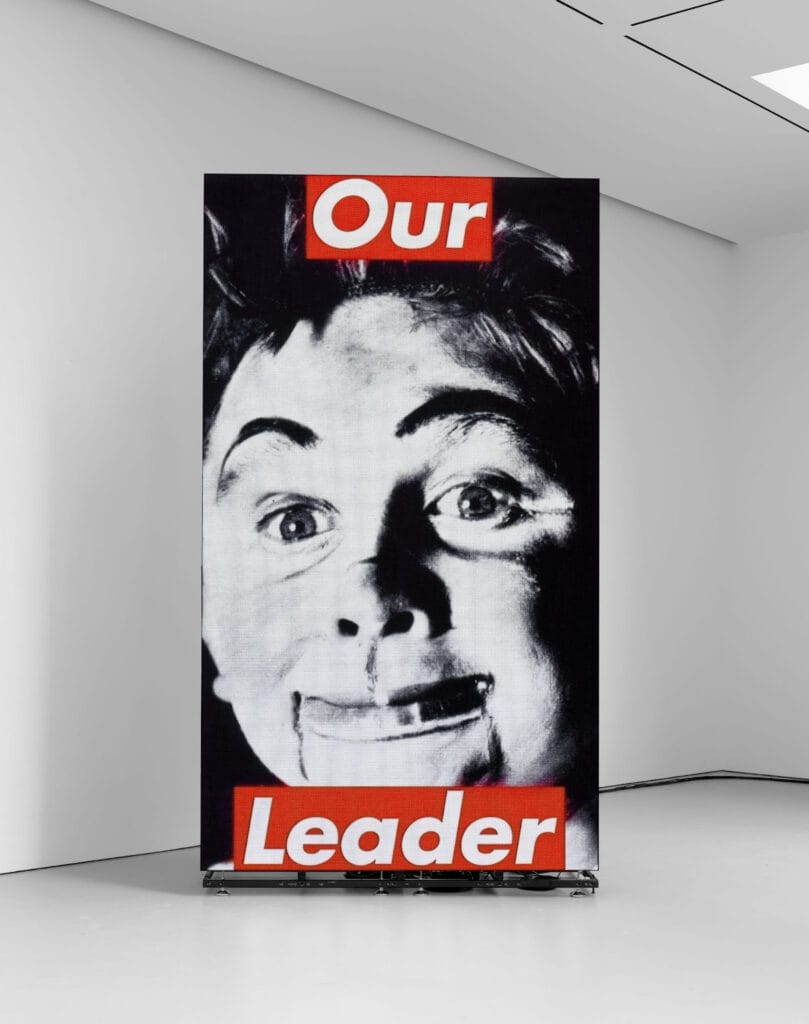 Untitled (Our Leader) (1987/2020) is an example of Kruger's "replays," a body of work begun in 2019 in which the artist reconfigures in new digital formats some of the most well-known examples from her own potent and incisive oeuvre. By revisiting and animating these works, the artist further questions established power structures and social constructs through images and text. The replays, which are augmented with striking sound effects, transform Kruger's previously static images into dynamic video works that engage with the visual paradigm of the current moment. Here, the artist begins with her 1987 pasteup collage Untitled (Our Leader), which superimposes the titular patriotic phrase over the head of a glassy-eyed puppet. In the video work, the puppet's vacant smile swirls into a grotesque distortion before settling again, followed by a range of new epithets—such as "Our Loser," "Our Loner," "Our Lender," and "Our Lover"—that blare across the screen to the sound of a ringing bell.
Kruger's choice to animate her replays is crucial to the series's conceit and reflects a longstanding thread of interest within the artist's oeuvre; as early as 1990, she proclaimed that "the video camera has indeed replaced the mirror as the reflection of choice, putting us in a constant state of either watching or being watched, and transforming the emancipatory notion of 'play' into the relentless realm of 'instant replay.'"2 In doing so, Kruger reaffirms the cultural prominence of her iconic visual language and reveals the radical inventiveness and lasting relevance of her incisive work with pictures and words.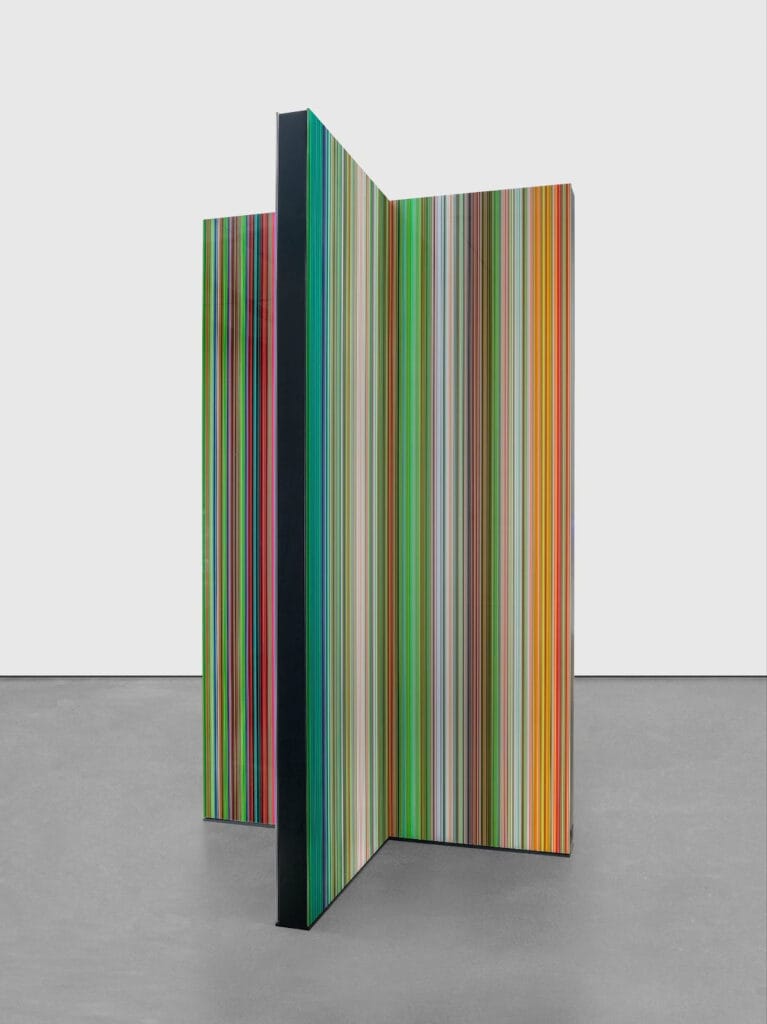 David Zwirner is debuting STRIP-TOWER (2023), a new work by Gerhard Richter, at Art Basel Unlimited. Standing at more than three meters tall, the work is a multi-panel installation that unites several threads of the artist's long-standing inquiry into the nature of visual representation. The work is constructed with eight glossy perpendicular panels that reflect their surroundings, collapsing the division between the picture plane and the outside world.
Since the 1960s, Richter has created large-scale sculptures using glass and mirrored surfaces, harnessing these materials' reflective properties to explore the relationship between installation art and the built environment. His later freestanding installations—which date from 2002 onward and are constructed from groups of upright transparent panes—uniquely position the material of glass as a literal reflection on painting and image-making rather than as a form of pure sculpture. In STRIP-TOWER, for the first time, Richter applies a similar physical construction to his Strip (2011–2016) paintings, creating a sculptural manifestation of these abstract, digitally derived compositions that expands his uniquely analytical and experimental approach to the painted medium into three dimensions.
STRIP-TOWER will be the subject of an online presentation as part of the gallery's Exceptional Works series on davidzwirner.com. 
Sideshow Rigmarole (2020) is the artist's largest installation to date and comprises thirty-three discrete elements that extend across the length of a gallery wall, bringing together images from clippings of magazines that circulated from 1970 to 1972. Shearer distills his selection of images by mostly choosing smaller black-and-white halftone images that were reproduced via offset on newsprint, instead of the glossy full-color pinup centerfolds or covers that often showcased celebrities.
Each painting is a vivid, psychedelically colored monochrome featuring a printed image. Digitized then transferred via inkjet onto painted rag paper at near human scale, the images are further abstracted in a process that removes definition and detail. Sideshow Rigmarole eschews distinct icons for likenesses of underknown figures who were used in the promotional ephemera of this time. Interested in the disposable nature of certain images that were featured in teen fan publications, Shearer exposes their spectral qualities, primarily mining pictures that were ostensibly chosen for quick, illustrative purposes, at times photographed by amateurs.
The theme of mortality is threaded throughout these images: many of the figures pretend to sleep or feign death; some are in hospitals or are injured. In its dynamic and synergistic array, the loose configuration of Sideshow Rigmarole gathers and subtly reveals the visual signifiers from scenes of a recent past: the way figures hold their bodies, familiar facial expressions and gestures, as well as the performative traits of the subjects themselves.
A book launch for Shearer's latest publication, Working from Life, will take place on June 14, 5–7PM, in the Magazine Sector, next to the entrance to the Unlimited presentation, in Hall 1. Books signed by the artist will be available for purchase.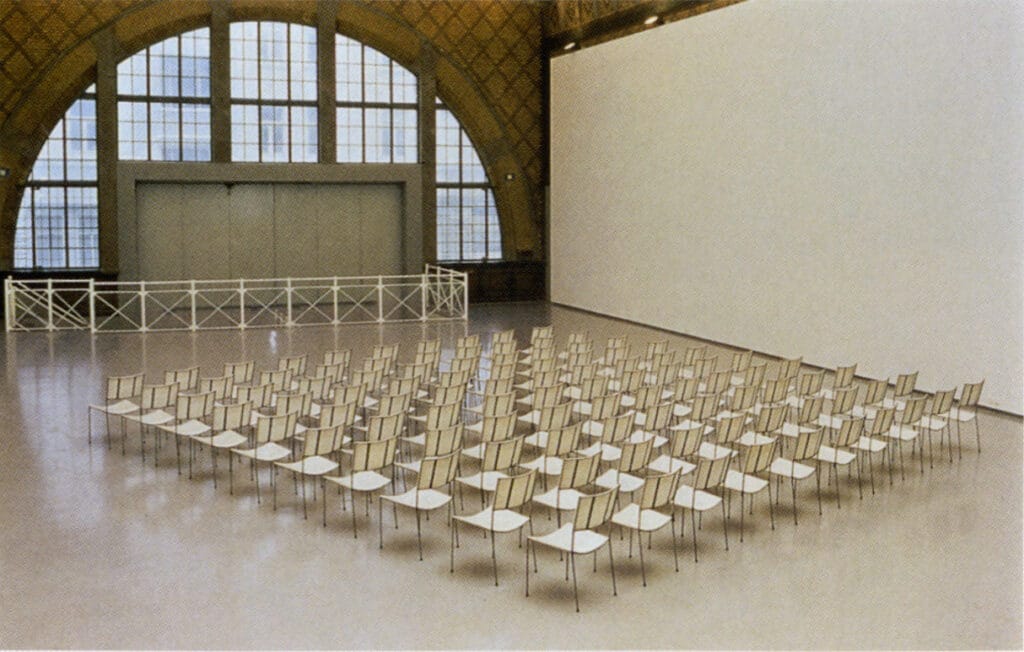 Furniture became an important part of Franz West's aesthetic output In the1980s. Although this work often incorporated interactive elements as a means of subverting traditional models, furniture in particular allowed him to create a space for visitors to rest and reflect on the artwork and their experience of it, thus privileging social interaction as a central component of his work.
In the 1990s, West developed this concept further, executing several works that created variations on a lounge, cafe, theater, or lecture hall environment. A significant example of this body of work, 100 Stühle (100 Chairs) (1998), consists of 99 identical seats rendered in welded metal and dispersion, the hardened white appearance of which recalls West's important Passstücke (Adaptives) of the 1970s and 80s. Following on the temporary installation of colorful, patterned seats "100 Days – 100 Guests" that he devised for the lecture hall designed by Heimo Zobernig at Documenta 10 in 1997, the present work was debuted as part of West's 1999 solo exhibition at the Rooseum Center for Contemporary Art, Malmö, Sweden. While the original installation at Rooseum had 100 chairs, as suggested by the title, the artist deliberately and playfully removed one of the chairs for posterity.