Doctor Strange in the Multiverse of Madness is a 2022 Marvel movie directed by Sam Raimi (The Evil Dead). Starring Benedict Cumberbatch. With Elizabeth Olsen and Benedict Wong.
Plot
Dr. Stephen Strange casts a forbidden spell that opens the doorway to the multiverse, including alternate versions of himself, whose threat to humanity is too great for the combined forces of Strange, Wong, and Wanda Maximoff. (Filmaffinity)
The Director
Sam Raimi
Sam Raimi is an American filmmaker who directed the Spider-man trilogy, Darkman, The Quick and the Dead.
The Cast
Benedict Cumberbatch
Benedict Timothy Carlton Cumberbatch was born on July 19, 1976 in Hammersmith, London, United Kingdom
Benedict Cumberbatch is a British actor known for his roles in The Power of the Dog (2021), The Imitation Game (2014) and the TV series Sherlock.
He is also the Doctor Strange in the Marvel franchise.
His last film is Doctor Strange in the Multiverse of Madness (2022).
About Elizabeth Olsen
Elizabeth Olsen is kown for her role alongisde her two sisters in the 90's TV sitcom, Full House.
Release Date
May 6, 2022 (Worldwide).
Movie Reviews
"Though unsatisfying in some respects, the film is enough fun to make one wish for a portal to a variant universe in which Marvel movies spent more time exploiting their own strengths" John DeFore: The Hollywood Reporter
"A ride, a head trip, a CGI horror jam, a what-is-reality Marvel brainteaser and, at moments, a bit of an ordeal. It's a somewhat engaging mess, but a mess all the same." Owen Gleiberman: Variety
This mystical realm is so crowded with plot and characters and magical doodads that there's no room for the characters (…) this 'Everything Bagel' is loaded with ingredients, but it lacks a certain flavor." Alonso Duralde: The Wrap
Marvel Studios' Doctor Strange in the Multiverse of Madness | Official Teaser
Doctor Strange in the Multiverse of Madness (2022)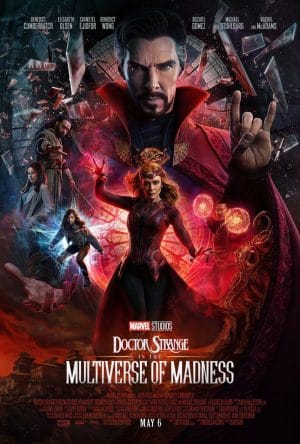 Movie title: Doctor Strange in the Multiverse of Madness
Movie description: Dr. Stephen Strange casts a forbidden spell that opens the doorway to the multiverse, including alternate versions of himself, whose threat to humanity is too great for the combined forces of Strange, Wong, and Wanda Maximoff. (Filmaffinity)
Date published: May 5, 2022
Country: United States
Duration: 126 mins
Author: Martin Cid
Director(s): Sam Raimi
Actor(s): Benedict Cumberbatch, Elizabeth Olsen, Benedict Wong, Rachel McAdams, Chiwetel Ejiofor, Xochitl Gomez, Soo Cole, Tony McCarthy
Genre: Fantasy, Action, Superheroes