Along for the Ride is a 2022 romantic comedy released on Netflix in April. It's written and directed by Sofia Alvarez. Starring Emma Pasarow, Andie MacDowell, Dermot Mulroney and Belmont Cameli.
It's based on a novel by Sarah Dessen.
Plot
The summer before college Auden meets the mysterious Eli, a fellow insomniac. While the seaside town of Colby sleeps, the two embark on a nightly quest to help Auden experience the fun, carefree teen life she never knew she wanted. (Filmaffinity).
The Movie on Twitter
3 more sleeps til ALONG FOR THE RIDE pic.twitter.com/Pj4UA2LoRT

— NetflixFilm (@NetflixFilm) May 3, 2022
The Director
Sofia Alvarez
Known for the script of To All the Boys: P.S. I Still Love You (2018) and To All the Boys I've Loved Before. THis is her first movie as director.
The Cast
Actress known for her roles in the films Am I OK? (2022) y Touch (2012).
Actor known for the romantic comedy released on Netflix, Along for a Ride (2022); and The Husband (2019) and Most Guys Are Losers (2020).
And, of course, he is also known for the remake of the TV series, Saved by the Bell.
Andie MacDowell is an American actress and model known for her roles in films such as Four Weddings and a Funeral (1994) and Sex, Lies and Videotape (1989), directed by Steven Soderbergh.
American actrss, singer and model known for her roles in Superman Returns and The Horse Whisperer (1998).
Movie Reviews
Coming soon
Release Date
Updated: May 6, 2022.
Where to Watch Along for a Ride
On Netflix.
Movie Reviews
"Its genuine, gentle charm holds far more appeal than the icky 'Kissing Booth' series" Kate Erbland: IndieWire
Video; Along for a Ride. Official Trailer
Cast & Crew
Along for the Ride (2022)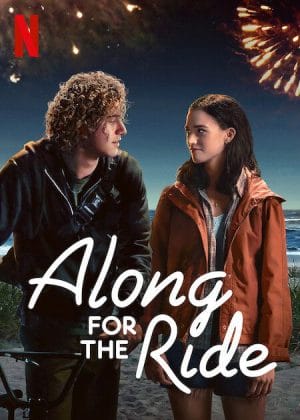 Movie title: Along for the Ride
Movie description: The summer before college Auden meets the mysterious Eli, a fellow insomniac. While the seaside town of Colby sleeps, the two embark on a nightly quest to help Auden experience the fun, carefree teen life she never knew she wanted. (Filmaffinity)
Date published: April 21, 2022
Country: United States
Author: Martin Cid
Director(s): Sofia Alvarez
Actor(s): Emma Pasarow, Andie MacDowell, Dermot Mulroney, Kate Bosworth, Belmont Cameli, Genevieve Hannelius, Laura Kariuki, Samia Finnerty, Paul Karmiryan, Ricardo Hurtado, Marcus Scribner
Genre: Drama, Romance